Name: Monique Adams
From: Atlanta, GA
Grade: 12th
School: Grady High School/ Georgia State High School
Votes: 0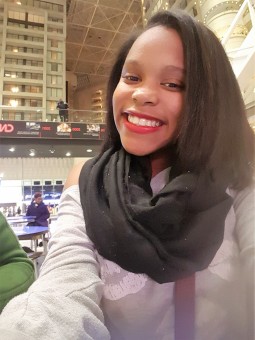 Monique Adams
Youth Forward-
Scholarship
Volunteerism
Volunteerism is very important. Not only does it help people in need, but it also
teaches youth responsibility, helps increase a person's
self-confidence and self-esteem, and build connections. Because
volunteering has so many benefits, many school systems and courts
mandate community service hours in an attempt to create better
citizens. In fact, my school system required 75 hours of community
service in order to graduate. Being in JROTC helped me exceed that,
with me finishing high school with almost 700 hours.
Every year in JROTC, in order to maintain a perfect score during
inspection, we have to come up with and do at least one service
learning project. We always choose going to our cluster elementary
schools and teach them financial literacy. It has many benefits for
the elementary students AND our cadets. It teaches us both financial
literacy, but it also teaches our cadets the importance of
preparation, better social skills, and how to adapt to different
situations.
We do this once a semester, however, I, along with the rest of my cadets
have volunteered about fifty hours total in preparation for each
session. My responsibilities were setting up and planning the event,
training the cadets, making sure it was carried out successfully,
addressing and solving any problems, and doing an after-action review
to improve for the next time. Although fun, many problems that arised
during the event. The most challenging though, was making my peers do
the right thing and making sure they followed all the rules. It was
challenging because being a major leader in JROTC, but also being
almost the same age as a lot of the people there created tension
because no one wanted to listen to someone their age. However, I
overcame this by motivating my peers to WANT to do better. During
this process I learned a lot. I learned about how to be a better
person. I've learned the difference between being a boss and being
a leader, and most importantly, I've learned how to work well with
a team. The key to success is communication. You must communicate
early and often to be able complete anything with a team.
I love doing community service and service learning projects and I will
definitely continue doing them in the future, I'm going to
commission in the Army and community service lines up with that
career goal because one of the Core Army Values is selfless service.
From now on, all of my activities will be forward looking. In twenty
years, I know I will have made a difference. I will have made a
difference because I have helped someone either learn more, realize
their full potential, or because I helped them financially. Someone
will become something great because I believed in them and helped
them. That's the type of person I seek to be.