Name: Alexandria Cooley
From: Fruit Heights, Utah
Grade: 11
School: Davis High School
Votes: 0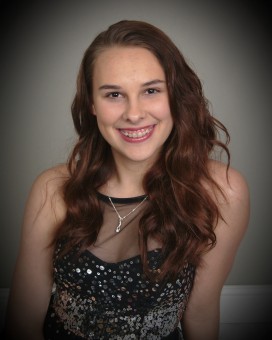 I have been involved in Girl Scouting for 12 years, and I am
currently a Girl Scout Ambassador. Throughout Girl Scouting, I have
had many opportunities to contribute to community service, but my
favorite and most impactful volunteerism project is what I did to
earn my Silver Award. A Silver Award is the second highest
volunteerism recognition given out by Girl Scouts. To earn a Silver
Award, a girl must complete a service project that is sustainable and
lasts 50 hours. For my Silver Award, I helped my city to pass the
Green Waste Program.
When I was in 6th grade, my city was trying to pass the Green
Waste Program, which would allow residents to order a green waste
curbside can that works similarly to a normal garbage can. Residents
would be able to discard green waste (such as woody/leafy materials,
and organic household items) into their Green Waste Cans, and the
contents would then be transported to the county landfill to be
changed into compost. To find out if residents would be interested in
this program, the city sent out surveys in the mail asking residents
to mark whether they would participate or not. The problem was, the
city did not get enough responses to pass the program, leaving the
project at a standstill. Knowing this, I decided to get involved in
my community and help to get the responses needed.
Before I started, I needed to be educated on the project so that I could
later enlighten residents on the program. I first interviewed two
women at the city building, Shauna Hill and Helen Peay, and employees
at the county landfill. I asked questions and learned exactly what
the program was and how it worked. I also understood why the project
was important to our community so that I could educate other
residents. After I understood the project, I visited homes all across
the city to get responses on the survey and educate residents.
The biggest challenge I faced was nonresponse from the residents and the
weather. On many occasions, I would have to go back to a house
multiple times in order to catch the resident when they were home.
Also, the time when I did this project was a summer with crazy
weather. It would be scorching hot one moment and then freezing rain
the next. Although this weather is pretty normal for Utah, it was
still inconvenient for a girl walking through various neighborhoods.
In the end, I spent over 60 hours visiting houses trying to get the
program passed. It was such a relief and a feeling of success when
the program was passed. I still remember how cool it was to see all
of the green waste cans lined up along my street on pick-up day. I
learned a lot during this project, but the most impactful lesson is
that even one person, no matter how young, can make a difference in
their environment and in their community.