Name: Kendra Webster
From: Harrod, Ohio
Grade: 11
School: Allen East High School
Votes: 0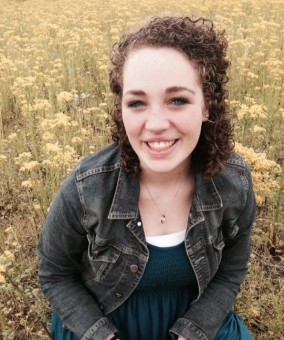 The delicate girl looks at me with large, blue eyes as I fit her helmet. Once the straps are
tightened she grabs my hand and we slowly walk up the ramp and into
the mounting area. Her legs are weak causing her to struggle with
each step she takes, but she is not afraid for she knows I am there
to help her. We wait patiently while the horse she has ridden for the
past four weeks is brought in for her to mount. She releases my hand
and carefully steps over to the instructor who will help her climb
onto the horse. In approximately two minutes the little girl will be
mounted and ready to ride the horse; she will finally feel a freedom
that she hasn't felt since last week, the last time she rode the
horse. When atop the gentle animal she feels hardly any resistance
from the disease that has eaten her muscles and destroyed her sense
of freedom. I watch her happiness bloom and feel an overwhelming
sense of pride knowing that I have been involved in the process to
make her feel so alive. Moments like these are what makes
volunteering worth every second.
For  the past eight years I have chosen to volunteer at Fassett Farm
Equestrian Therapy Program. This type of therapy utilizes horses to
promote emotional growth as well as overcome physical disabilities.
When I first started volunteering, the duty granted to me was to
groom the horses. However, over the years I have gained experience
and am now able to sidewalk, lead the horses, and ultimately exercise
the horses. Nevertheless, sidewalking has always been my favorite
position. When doing this, your first priority is the safety of the
rider, but you must also focus on the horse as well as the
instructor. At times this can be challenging due to a discontented
rider or an irritable horse, but I always strive to keep a pleasant
attitude when facing situations such as these. Through the challenges
though, there is great satisfaction. The most fulfilling part of
volunteering at Fassett Farm is witnessing the tremendous improvement
of the riders. Some children arrive at their first session in a
wheelchair, yet after a few short months of therapy they are able to
stand and sometimes even walk. Being a part of an improvement so
great gives you a feeling like none other.
Volunteering at an equestrian therapy program is an ideal way for me to prepare
for my future. Not only does it ready me for a career in the health
field but it also allows me to express something that has always laid
heavy on my heart – that is, disabled children may be different,
but they are no less important than anyone else. Through my efforts
at the farm, I am able to demonstrate just how much I care about
these struggling children. Fassett Farm embraces the concept that
"disabilities are challenged and new abilities are created" and I
wholeheartedly agree.