Name: Sara M Zimin
From: North Port, Florida
Grade: senior in High School
School: North Port High School
Votes: 0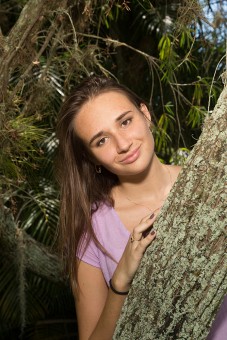 My name is Sara Zimin and I spend my time volunteering at my community
church as a camp counselor and a Sunday school teacher. As a little
girl, I always admired my teachers, and I made a wish to become just
like them. As I got older, I was given the opportunity to hold minor
responsibilities: passing out crafting materials and distributing
snacks. From this moment, my passion to serve people sparked and
continues to grow into an untamable wildfire. When I moved to
Florida, the Sunday School supervisor saw my passion and granted me
the opportunity to serve children in ministry. The wish I had made as
a little girl was beginning to blossom.
As a volunteer Sunday school teacher, I work with six and seven year
olds during the public school season. Here I hold the responsibility
of composing and teaching a serious yet entertaining assignment. At
the end of every year, the church celebrates the little students'
achievements of completing their classes by holding a graduation
ceremony. It is so amazing seeing my students on stage knowing I have
impacted their lives through all the time and effort I applied into
their lessons. Seeing my little students grow bolder in Christ as
they bravely raise their hands to pray over the whole class or share
their testimonies encourages me to continue working with children
despite all the tedious work.
Every spring and summer I also volunteer as a camp counselor for children
ages six through thirteen. Two months before the camp, I would go to
church and stay late into the night practicing plays to present to
the campers. Seeing the children's excitement and enthusiasm makes
me willing to continue in my ministry. I volunteer as a counselor
because I believe young people need someone to set them a good
example. I get a chance to interact with them on a personal level by
sharing my own experiences with the campers. They explain their
worries and stresses, and at the same time I am able to carry out my
mission of setting good habits such as refusing drugs and remaining
abstinent. It is so pleasing to have the kids and teens alike come
up and hug me, just as I used to hug my teachers as a little girl.
The biggest challenge I have experienced is finding enough time for each
child. There never seems to be enough hours in the day to spend time
with all my outstanding students. I have learned to lend a listening
ear, provide comfort, and sympathize with a hurting heart.

Looking forward into the future, I hope to see my students continuing the
work of God and inspiring upcoming generations to make good choices.
I hope to see society changing for the better, where people from
various ages could interact together, helping each other out.