Name: Justine F. Kaasch
From: Richmond Hill, GA
Grade: Freshman
School: Georgia College and State University
Votes: 395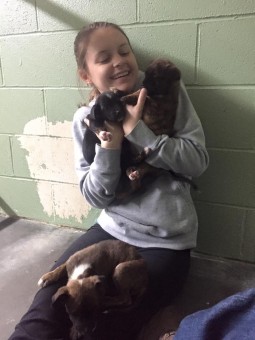 As a child I intently remember how set apart I was from other young
people my age. At the age of seven, while the other kids were
dressing up as princes and princesses for Halloween, I was dressed up
as a veterinarian. While other kids were interested in playing
outside with their friends, I was looking up different ways that I
could help animals that were just begging to be loved. It was at this
young age that I decided to become a vegetarian, for the protection
of animals, and I promised myself that I would use my time on this
earth not to just better my own life, or those of others around me,
but to better those often overlooked—to better the lives of
animals.

I started volunteering with my family also at a young age. It was
something that gave my life purpose and something that gave me a
great feeling inside knowing that others benefitted from my help. In
this past year, many things in my life have changed since attending
my first year of college as a freshman. One thing that has not
changed is my passion for volunteerism and animals. I joined a newly
assembled club at my college called GC Shelter Buddies. Just in the
few months that it had been established, I put in about 100 total
hours of volunteering with extra donations brought in on the side
from helpful friends and family. I spent these hours doing some easy
tasks such as cleaning dog bowls and dishes, as well as walking and
feeding the animals at the shelter. What I didn't know that I would
be doing at the shelter was the most impactful on my life.
Along with the physical labor of a daily shelter volunteer comes hard
decisions and seeing heart-wrenching things happen to these helpless
animals. Puppies and their mothers would often be left at the front
steps of the shelter, and the "owners" nowhere to be found,
hiding from embarrassment that they no longer wanted the
responsibility. Abandoned pregnant dog moms and cats came through the
doors, on the verge of giving birth. Beaten and bruised dogs, often
used for fighting, walked into their kennels cowering down, afraid
and lost. Despite all of these awful things I have seen, these
animals are the most loving and kinds beings on this Earth. It was so
incredibly rewarding to just go to the shelter and experience the
compassion these animals have, and how thankful they are that they
had someone that finally cared for them.
As a volunteer for animals, I have seen them at their most beaten state
and I have seen them at their happiest, most proud. I plan to
continue my position as a volunteer at shelters and translate these
learned skills into my studies as a pre-veterinarian medicine major
in college. I know that these animals most likely will not remember
me in twenty years, but I hope that the people will remember my work.