Name: Erich Podbielski
From: Richfield, WI
Grade: College Freshman
School: Concordia University - Wisconsin
Votes: 0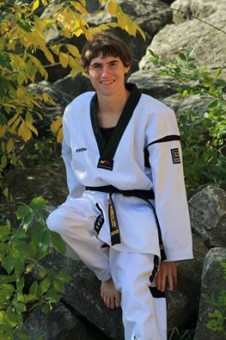 Volunteering is an irreplaceable experience unique to an individual I
am lucky enough to have had the opportunity for the past six years to
volunteer at my local YMCA following my passion, teaching Taekwondo
and self-defense to both youths and adults. Having had the
opportunity to volunteer in the area of exercise and fitness as well
as in the areas character-building and self-protection is both a
privilege and a gift I will always be grateful for.
I spend a minimum of 8 hours per week of purely being on the mat
teaching children and adults. However, there are several additional
hours a week planning and preparing class schedules and getting ready
for belt promotions and tournaments. Some of my key responsibilities
include helping to run children and adult martial arts classes of all
belt ranks, running technical drills and exercises, running classes
when called upon, helping to oversee colored belt and black belt rank
promotions, and developing and overseeing the self-defense
curriculum.
My biggest challenge as a volunteer is not what most people would
expect. My biggest challenge is not difficult children who misbehave
and disrupt class. My biggest challenge is making myself better in
order to better instruct my students. I constantly strive to better
serve my students and find new ways to engage them and to help them
develop the necessary skills in order to be successful in martial
arts and in life. What gives me the most satisfaction as a volunteer
is seeing the progress my students make. Whenever one of my students
gets a new belt or has become a black belt, I feel great pride
knowing I did a small part to bring this about. Martial arts is one
area where you can learn as much teaching as you can by doing. This
is exactly what I have experienced as a volunteer. I have learned the
type of person I am, what I am capable of accomplishing, and what
integrity and determination mean to me.

In my position, I have the opportunity and responsibility to mold
children's characters into responsible adults who have integrity
and respect for those around them. This has the ability to move our
entire society forward into one where respect is the cornerstone of
our communities. This is exactly the change I hope to instill in my
community. In today's broken world, we need people who respect each
other. This is how I move my community forward and it is the legacy I
hope to instill in my community. Already I have had children come
through my program who are now responsible young adults who have the
right skills and mind-set to accomplish whatever they want to in
life. As I continue to watch these young individuals mature further
and guide new students into become productive members of society, my
volunteer activity will make a difference in the next couple decades
as these young people work for positive change in our communities, in
our country, and in the world.