Name: Anna Torosyan
From: Van Nuys, California
Grade: High School Senior
School: University of California, San Diego
Votes: 118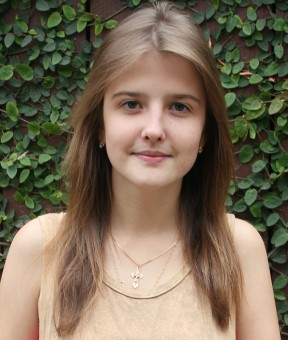 For several years I have committed myself to helping preserve our
environment because of my love for animals and nature. I have been
volunteering 2-6 hours per week for the past couple of years,
volunteering as a River Ambassador for the Mountains Recreation
Conservation Authority, research volunteer for a DNA Barcoding
project initiated by my former teacher and a joint research project
participant with CSUCI on Santa Rosa Island.
After a year long project, I earned the title of River Ambassador for my
commitment,and leadership to the environment. I learned about the Los
Angeles River through workshops and multiple tours of parks where
efforts to sustain and conserve the river were made. Shortly after,
my partner and I passed our knowledge onto two school groups within
our community and led them on tours of key parks alongside the LA
River, which featured flood control zones, bioswales and methods of
preserving water. The DNA Barcoding Project involved extracting
genomic DNA from rockfish, followed by the creation of a barcode,
that was then uploaded onto BOLD(Barcode of Life Data) and NCBI (
National Center for Biotechnology Information). Once, uploaded, the
barcodes are available to scientists and researchers to utilize at
their discretion. Another volunteering opportunity I participated in
was on Santa Rosa Island. Scientists and researchers are on a mission
to restore the island to its previous condition, restoring native
fauna and flora. I was able to conduct two transects on two different
habitat areas-the shore and the grasslands. The transect data
collected was utilized to monitor the growth of native plants and
flowers throughout the island.
Throughout these two experiences my biggest challenge was my introvertedness ,
but that challenge was conquered because I grew less shy and more
determined to improve the world. Being able to educate people and
share my knowledge with them on rockfish and the LA River encouraged
me to continue pursuing my interest in protecting the environment. I
learned that teamwork play an important part in making change happen.

Originally, I planned to pursue a career in environmental science, but later
realised that I want to become an architect, after I receive a BA in
Structural Engineering, so I can build infrastructure that will be
safe and environmentally friendly. For me, forward-looking means
progression and development, so I hope that as a society, we become
more interested and innovative in the ways we seek to preserve our
planet. When people learn about the research and the project I
conducted for River Ambassadors, I want them to share that knowledge
with others, creating a society that is ready to make the change and
help the planet. I believe that my research and volunteering efforts
will have impacted the future, and that they would have taken a small
part in improving the environment as well as the cooperation/teamwork
within our society, to reach a common goal.