Name: Graham Meglino
From: Rye Brook, New York
Grade: 11
School: Blind Brook High School
Votes: 0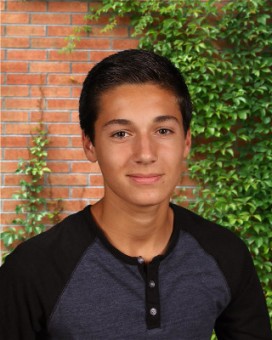 Graham Meglino
It is not simply about volunteering. Not simply helping with a job to achieve a common
goal, it's more than that. Volunteering is a mutual agreement,
although it may not seem like it. Volunteering is a big problem
facing our society because the mindset of most citizens is, "Why
should I help someone if I get nothing in return?" The truth is,
you do get something in return. That "something" can't be seen
or heard, but is felt in each and every one of us after performing a
good deed and it feels pretty good. My good deed reflects my personal
interests, specifically soccer.
A few summers ago, my brother and I started our very own "free-soccer-clinic"
for the local kids. Our goal was to give the local kids a chance to
play a sport they loved, with great players (my brother, myself, and
a few of our friends), while hopefully getting better in the process.
The clinic was held in the park right next to my house and started
out as a gamble. No one knew how many kids were going to show up, if
any kids were going to show up, and what we were going to do with the
kids when they got there. As the weeks went on, we continued the
clinic, and it was a huge success. All the kids loved it, my brother
and I (along with a couple friends) were having fun with the kids,
and the group of kids only got bigger. It felt good to see our
family-dinner discussion idea come to life as well as that
"something" that came with it. I like to believe in the
expression, "What goes around comes around," mainly because it
pertained to me as the clinic progressed. We didn't receive
compensation or any rewards for our volunteering (besides promotions
of the clinic in the newspaper) but it truly felt good to do good for
others. The kids were happy, we were happy, and at the end of the day
we got that "something" in return, the "something" that only
comes from volunteering.