Name: Natalie Tercek
From: Gresham, OR
Grade: natalietercek@gmail.com
School: natalietercek@gmail.com
Votes: 0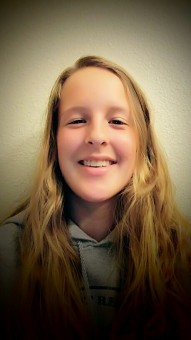 Over the past three years, I have volunteered mostly with either children
or the homeless. I choose to work with these people because I feel
that they are among the people in society who benefit the most from
volunteer work, and I enjoy seeing the impact I have on them and what
they have to teach me also. I have completed eighty hours of service
over the last three years and plan to continue to do at least twenty
more within the next year. As a volunteer, I have many
responsibilities depending on where I am volunteering. If I am at
Oregon Food Bank, I package and sort food, or if I am at my parish
food pantry or Blanchet House, I serve food to people. As a teacher
aide for faith formation class, I was expected to help the kids learn
in class, and as a referee for Catholic Charities, I refereed soccer
games for underprivileged children.
My biggest challenge as a volunteer has been going outside of my comfort
zone and working with people of all ages and backgrounds, whether I
am serving them or working alongside them. I am not the most outgoing
person, but performing service has helped me to go beyond what I am
used to and reach out to people who need help. The most satisfying
part about volunteering is seeing the affect that my work has on
others' lives, and even if I do not directly see this, I know that
what I have done helps people out. From my volunteer position, I have
learned how to work with others to get a job done, which can be
challenging at times. I have also learned to work with people that I
might not usually interact with. The most important thing I have
learned from volunteering is how blessed I am to have what I do, and
to not take anything for granted. There are people that get by with
much less than I do, and I want to use my blessings to serve others
who do not have the same opportunities because of their situation.
I think "forward looking" means that the volunteering I do will
have a positive impact on others' futures, enabling them to live
better lives. If I were to state one thing I hope to change by
volunteering, it is promoting a feeling of community and acceptance
into the world, instead of marginalizing people for things they often
have no control over. If I were to look back on my volunteer
activities in a few years, I would definitely say they have made a
difference. For those I have served, I have improved their lives, but
more importantly, they have changed me. Performing service has
inspired me to go beyond the norm, and I soon hope to help people
overseas as a doctor. Serving others has helped me to become more
confident in myself and to realize that it is important to do what I
can to help others.