Name: Lyric Hawkins
From: Atlanta, GA
Grade: 12th
School: KIPP Atlanta Collegiate
Votes: 0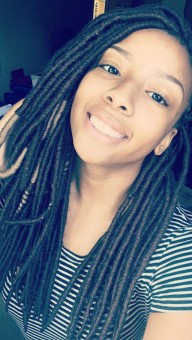 Lyric
Hawkins
Coming from a low-income family, I know first hand the feeling of going
without. That feeling of emptiness is the driving force in my desire
to give back to people that are just like me. When my father passed
away, family and friends rallied around my mother and assisted her
with the too-common task of single motherhood. The loss of my
father's income did not omit the needs of three children. It was
their help that got us through. Having to push through such tough
obstacles, I learned it is best to be an aid rather than falling
victim to your own pain. Thus began my passion with assisting my
community.
Since I was ten, I have volunteered my time at centers that target at-risk
youth. I assist with tutoring and reading stories to children while
watching both their interests in learning grow along with their
grades. Living in Atlanta, the temperature often reaches above 90
degrees. On those days I distribute water to highly populated
homeless areas. I have came across mothers straddling infants in one
hand while reaching for their prepared stack lunches in the other.
Completely baffled by the view of such a tight-knit community filled
with homeless men and women, I took the initiative to increase my
impact in my community. During my junior year of high school, I
single-handedly developed an organization entitled KAC Cares. I led
scholars within our school to host community service events. In a
single year, we raised over 100 toys for kids in need, arranged food
drives, provided services to shelters, and collected over 100
toiletries for homeless men and women. I later learned that majority
of the women living in those areas were victims of Human Trafficking.

Forward looking, I plan to create a center that will establish a safe haven
providing not only food and shelter, but a positive community among
the victims of Human Trafficking. The purpose of the safe haven will
be to ensure a comfortable life back into society once freed from
their traffickers. It will provide education for all ages of victims
living within my organization: counseling that coincides with
mentoring programs, self esteem classes, clothing, education and
literacy programs, survival care and training, job training, and
assistance to drug abuse and other unhealthy habits victims have been
introduced to. In contrast to the life the children and teenagers
were forced into as victims my center will help the kids to
experience a real childhood filled with laughter, games, sports, and
fun. The center will also work as a foster care providing kids
without parents with a secure and loving family.
Living life to the fullest is creating ways to further better the lives of
others. It brings me joy to know that with the little I have I am
able to bring happiness to other people's lives.