Name: Tray Ard
From: Kent, Washington
Grade: 11th
School: Kentridge
Votes: 0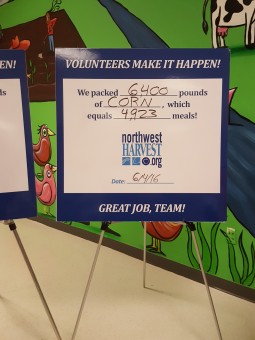 Youth
Forward Scholarship
When it comes to volunteering I was very reluctant when it came to doing
it, I always thought it was a waste of time and I had better things
to do, but after volunteering to Northwest harvest I released how
great it was.
After the first time I fell in love in helping people not only did it help
me as a person it showed how many people are in support to stop
hunger around the United states to those who aren't fortunate
enough. After I started I decided I'm going to continue in helping
those in need so I did I took time out my day just to make someone
else's life just a little easier and the rush was great. Even
though I was supposed to only do three weeks of it I decided I'm
going to keep going and enjoy the experience.
At one point I thought maybe I should find something else to do so I
helped people walked there dogs as a way to help people who are busy
when I was younger but something about packaging food with a group of
people with the same mind set at your is enchanting as much it is. I
wanted to get more involved so I kept doing it until I was satisfied,
but released I'll never be because knowing that there will always
be someone in need for help so at the end I'll never want to have
someone worry about not having food and will help as much as I can
until there's no hunger. Also the people there are
great to be around because many have their own story on why they
decided they wanted to help and some are strictly for school which
isn't all bad because many decided to come back and help so more.
Lastly I would never have thought volunteering would shape me to someone who
would want to keep helping people no matter what it was. At the end I
understand how much getting involved and being committed to helping
people in the war to fight hunger in the United States. to northwest
harvest because the staff there are supportive and want the best from
everyone while making it known that you're the cause of what happen
that day; helping people and feeding those in need, families that
aren't able to get food that easily makes everything all that much
better. While the staff and people who are involved are nice the
hours you have to work isn't as bad as I thought it would be
because I thought being stuck there for 2 hours would be the worst
thing on earth but after a while you become accustomed to it and if
you want to change stations you can ask anyone and they would be
happy to switch with you which is great to know. The schedule is also
one of the greatest because you get to plan it out by whatever works
with you.