Name: Gabriela Gonzalez
From: Chicago , Illinois
Grade: Junior
School: John Hancock College Prep
Votes: 0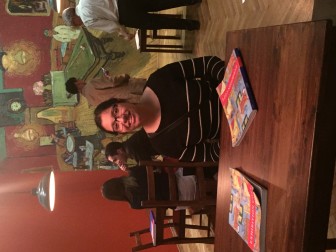 Life itself isn't always about ourselves; it's about being selfless.
Throughout my three years in highschool, I learned that volunteering
and community service is valued. This year I was inducted into the
National Honor Society (NHS), where community service is one of the
most influential aspects of NHS. The National Honor Society has
brought me to branch out and get more involved within the community.
It's become an amazing experience due to having the opportunity of
meeting new people in my community.
For the past two years, I've been volunteering as a Youth Leader for
Youth Guidance Programs. One of the programs I volunteer for is
Freshmen Connection. Freshmen Connection requires for upperclassmen
to be leaders for the incoming students. It's a great opportunity
for students to make new friends before the school year begins. It
also allows younger students to experience what high school will be
like. Instantly I thought it was an outstanding way to become a
mentor for younger students. When I attended Freshmen Connection,
students were able to discuss and ask questions about what was to
come for high school. I wanted to pass on the advice I gained, so the
freshmen could keep it in mind throughout the upcoming school year.
During the program, I was given a group of thirty students who were
going to stick with me for the entire two weeks of the program. I
looked at them and reflected back to when I was their age. There were
instances where they'd ask me if high school was difficult. I kept
calm and told them not to fret. There are instances where it'll be
stressful, but it's the type of stress they can get through. In the
following week, the other four leaders and I participated in a panel
where we told them that it's a good idea to be involved within the
community and school. We explained that they could put it on their
college applications and other resumes and that the best decision is
to be involved in activities they are passionate about. I'm glad I
advised them to do this because as I walk down the hallways, now I
see that they truly are getting involved. Being part of sports and
clubs allowed them to have connections with new people. They are
fortunate enough that they had upper class students to help them
along the way because when I was in their shoes, no one told me much.
I'm glad I was able to give them advice and I truly see that I've
made a difference in their lives. The smallest advice can always go a
long way.
Till this day, as I work with the incoming students, I begin to think that
I'm benefiting their lives little by little. I'm able to share my
insight on what to expect for the next four years of their lives. It
makes me think that as my life goes on that I'm able to give back
to my community. It's also a step closer for myself to believe that
Nursing is the study I want to go for. Both forms of Nursing and
Volunteering allows for people to meet and to have a sense of help
being forth. It's these things that allow an impact to be made
within the lives of others.