Name: Jenifer Narvaez Melo
From: Downey, California
Grade: Junior in High School
School: Univeristy of California, Santa Barbara
Votes: 0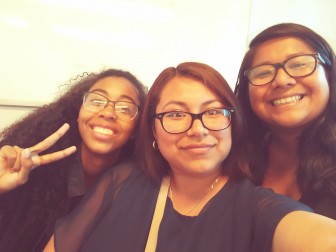 Jenifer
Narvaez Melo
Youth
Forward Scholarship Entry
A
Circle of Giving
Living in the rough parts of the city almost all my life, I have seen many
people living in poverty and need, from homeless senior citizens to
just people who have a home but go to bed hungry. Because of close
friends who volunteered, I grew up making an effort to help the
community, even when my own family had hard times (it was just my
mom, my four younger siblings and I sustaining each other).
I can distinctly recall a time I volunteered, through our Catholic
church, at a local food pantry during the holiday season. As a ten
year old, while distributing food on Christmas Eve, I was astounded
at the number of people who came in to pick up food for their loved
ones. I remember one particular day meeting this adorable little boy
who, after we helped his mom carry food to their house nearby, asked
me with wonder, gesturing to all the food, "are we rich now?" It
occurred to me the little boy had never in his entire life seen that
much food on their table as a result of the serious financial
hardship his family was facing.
Having been in the same position as that little boy before, this experience
made me further understand how important it is to cherish everything
you have.  It wasn't until high school that I started counting hours because
even when family issues and homework were a challenge for me, I made
it a point to volunteer, at the very least, fourteen hours a month.
Honestly, each person's effort towards volunteering makes a
difference, despite sometimes not being able to see it right away.
I believe that looking forward, maybe ten, twenty years in the future,
maybe one person from the food pantry will remember me and think
'wow, they took their time to help someone like me–I'd really
like to pass it on now, help others in turn'. What happens is that
when you help people in exchange for nothing material, it does cause
positive change in everyone, creates a chain.That
young boy made me truly realize how much of an impact one can have in
the lives of others if they just take some time to actually see
what's going on in their own community and be willing to give a
helping hand.