Name: Frank Yi
From: Houston, Texas
Grade: 10
School: Cypress Ridge High School
Votes: 0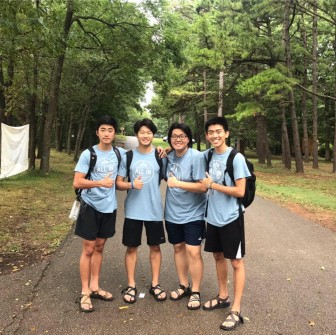 Frank Yi
A Little Slice
of Heaven

            Before going to Camp Barnabas there was only a few things I knew: I would be
paired with one person with special needs for the week, it would be
very challenging, every experience was different, and that camp was
like a prelude to heaven, a little slice if you would. Barnabas,
which is in Missouri, takes place in one week terms all throughout
summer, and new campers (those with special needs) and volunteers
(those who are assigned a camper) arrive every term. As a volunteer,
it is our role to change the briefs (diapers for adults), bathe and
brush our campers, feed our campers, play with our campers, learn
crazy songs that campers LOVE, and do everything with our campers 24
hours a day for 5 days. For me, the hardest part was always having to
put the campers first by, giving them food first (even though there
was very little food), putting on smiles while pushing 200+ pound
wheelchairs, being happy to wipe a lot of butts, and changing clothes
constantly. It was a challenging experience for all of us who live in
a society where it is all about ME, however, camp helped me change my
thinking greatly, by applying the acronym J.O.Y. to my life (put
Jesus first, then Others, then Yourself).
After camp the reason I decided I would continue to volunteer at Barnabas
for years to come, is because it brings me happiness knowing that I
am helping those who oftentimes cannot help themselves, and the fact
that those very people who need help, teach me so much patience and
will exude nothing but happiness, similar to how "a slice of
heaven" would look. However, in the "real world", those with
any  "disability", as people call it, are overlooked or even
feared everyday. Those with special needs are sadly outcast as
"abnormal" in all its negative connotation. However, camp showed
me abnormal as a word with a positive connotation, used to describe
those with special needs as people who are different and lack in
certain abilities for sure, but have almost superhuman abilities in
having and bringing true smiles to anyone they encounter, like
"heaven on earth". For this reason, things such as autism, down
syndrome, or cerebral palsy are not DISabilities, but rather, they
are A-bilities, that many people would dream of having. This is the
mindset we should have as forward lookers, or people looking for a
better future. A future where those with special needs will be
treated as rightfully so, SPECIAL people. Where words such as special
and retarded would not give a negative connotation but be used to
describe more great and wonderful people, more than you and I. And
when everything is done and I DO actually look back, I KNOW I could
make a difference one heart at a time if people would actually see
and spend time with those with special needs, and EVERYONE would
experience, A Little Slice of Heaven.