Name: Elizabeth Muraiti
From: River Forest, IL
Grade: Sophomore
School: University of British Columbia
Votes: 0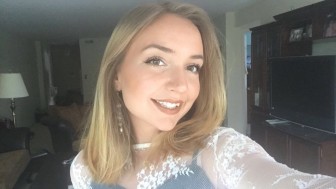 As me and my new friend are walking, I quickly remember to warn her that
we are approaching a small bump on the floor. I describe how close we
are to the table coming up and what it looks like, but I struggle to
find words more image provoking than simply "beautiful". I
constantly suppress my natural instinct to compare it to other sites
i've seen, because she has never been able to see those either.
Helping guide visually impaired guests around the Blind Beginnings Gala in
Vancouver, I was overwhelmed by how long I had been ignorant to the
struggles blind people face navigating a world that often neglects to
think of them when designing. Going around the Gala I see objects
that look familiar to me, yet slightly different because they have to
be altered to accommodate the guest impairment. Most significantly, I
see a battle between the want for independence and the need for some
level of dependency, when the young guest i'm helping gets into a
passionate argument with her mother over whether or not she can is
capable of grabbing her own food from the buffet.
Although the Gala is a once in a year opportunity, I have been
delighted to consistently participate and organize events that help
raise money for charities like Service for Sight and help blind
members of my college community in Vancouver as a walking Companion.
These volunteer opportunities have taught me the importance of making
yourself aware to the struggles various members of society face and
how imperative it is for us to create and design a world that eases
those challenges.
Through my time spent helping people who couldn't see, I also grew
interested and more passionate about helping those who couldn't be
heard, which is why I am working towards a major in International
Relations. I hope to graduate with the tools and experience to help
improve the global issue of women's rights with a focuses on sexual
assault and low literacy rates. For me, volunteering has fueled my
desire to make people aware of the large changes that need to happen
in society through granting me the opportunity to gain insight at a
much smaller, community level.