Name: Allison Stein
From: Harbor Beach, Michigan
Grade: 10
School: Harbor Beach High School
Votes: 0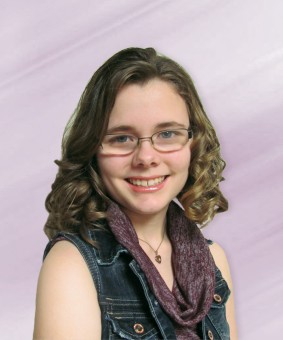 Every leader has a dream, a vision. Mine is to advocate for children's
potential. In a confusing world, youth too often lack the direction
and support to make successful choices. Sometimes it feels like there
is no one to confide in or turn to, or no one who understands. I want
to create a worldwide community in which kids are invited to
enlighten and empower one another. I want to be the reason somebody
still has a dream.
Seven years ago, I came across a mission statement that echoed my own. Searching
for a space in which to begin my journey as a young writer, I discovered Amazing
Kids! Magazine, an online nonprofit dedicated to encouraging youth to pursue literary
endeavors. As I read on the "About Us" page of the Amazing Kids!website,
this by-kids, for-kids magazine sought to "help inspire kids to
discover their own unique gifts and to use them in positive and
productive ways to make a difference…" Instantly, I felt a
connection. In the years that followed, Amazing Kids!
changed my life—first as a child touched by the patient editors who
nurtured her talents and then as a teenager volunteering to pay the
kindness forward. Each shift in staff position—Contributing Writer
to Poetry Editor to Assistant Editor—enabled me to acquire fresh
insights about my personal objectives, until at last I reached the
role of Editor-in-Chief six months ago. This opportunity to initiate
positive outreach has transformed me.
In my current position, I volunteer 15 hours a week in order to facilitate
the timely publication of monthly issues, revise articles for clarity
and format, coordinate staffing changes, and develop mentoring
relationships with younger authors. The work challenges me and allows
me to grow. For a girl whose initial interest in writing was sparked
from the desire to combat shyness, leadership comes hard; but day by
day, the experience of managing a team has provided me with the
confidence to effectively organize plans and orchestrate projects.
Along the way, I have enjoyed the privilege of collaborating with
emerging writers who believe in themselves simply because I believe
in them. I have learned the importance of having a purpose.
I hope to spend the rest of my life helping people articulate their emotions
and extend their outreach. After I graduate from high school, I plan
to obtain a bachelor's degree in Professional and Technical Writing
with the intention to one day earn a living by mentoring others. To
me, "forward looking" means just that—the act of looking ahead
of one's own lifetime in anticipation of potential service to be
performed in the interest of subsequent generations. "Forward
looking" is a will to foster in the world a legacy beyond oneself.
Decades from now, perhaps the children I have inspired will seek to inspire
others: This is the work I was made and meant to do. Perhaps a life
will be touched, or a heart will finally be heard.