Name: Megan Jones
From: North Charleson, South Carolina
Grade: College Sophmore
School: College of Charleston
Votes: 0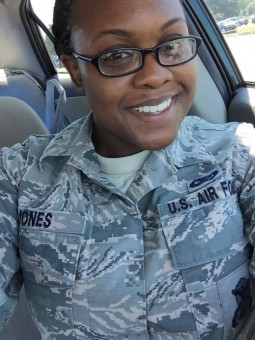 Volunteering to me or means more than just giving your time;
sometimes it's a way of saying thank you. I joined the Air Force
back in 2010 and since then I have volunteered for many
organizations. These organizations and opportunities include Big
Brother Big Sister, Meals on Wheels, Habitat for Humanity, clothing
drives for Women shelters, Relay for life, American Red Cross and
many more. As you can see I do not have a specific area where I
volunteer, I just see where help is need and I go for it. I aim to
volunteer for at least 3 hours a month and this is one of my biggest
challenges. This may not seem like a lot but I give any extra time
that I can. Some of my responsibilities as a volunteer were to
deliver means to those who cannot go groceries shopping themselves
and be a mentor to an underprivileged youth. I've also helped to
build a house and collected clothes for local Women's shelters.
Above all, the opportunity to work with veterans has given me the
most satisfaction. I love to get back to those who have paved the way
for me. An hour spent with a veteran is the most rewarding feeling
you can. I have learned that all some people need is a few minutes of
you time to make their day great.

Volunteering helps me to promote in the military. For instance, the
military loves to see veterans volunteer and give their extra time
for a good cause. In the future I plan to keep volunteering as this
helps me to promote and reach out to my community. I plan to progress
and grow and this is what "forward looking" means to me. Lastly,
I do believe that my volunteer activities have or will have made a
difference in someone's life. I can see that just by the look on
someone's face when I volunteer my time for a great cause.