Name: Maddy LaTurner
From: Duvall, Washington
Grade: 11
School: Cedarcrest High School
Votes: 0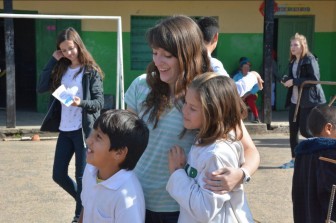 I knew these elementary school kids would be different, but I was still expecting
something else. Three years of volunteering at my local elementary
school taught me as much as three weeks in South America—but this
was a different kind of lesson.
At home, the elementary school kids came in to focus on their homework. As a
tutor, it was my job to assist them in any way I could. We both came
in, did our jobs, and left an hour later, every Wednesday for three
years. Education seemed like a natural choice for me, given that I
loved learning and I wanted more people to love it, too. It was
perfectly satisfying on its own.

When I learned about a volunteer program that let me help kids down
in South America, I jumped on the opportunity not only to travel, but
to meet all the people down there and work with them in-depth. In
Asuncion, Paraguay, the elementary school kids came in to get to know
us. We were trying to get them in their seats, focused on a lesson.
We were supposed to come in, teach them English like we were supposed
to, build their school up in the meantime, and go, every day.
As it turns out, it was them teaching me.
I sat down on the floor in the front of the room, and the entire table in front of
me came to sit down next to me. Little hands reached for me, for my
arms, the camera in my pocket. They would point to the little
pictures on the wall, asking how to say each of the tiny animals in
English. In return, they would say the word in a language I had never
even heard of: Guarani. Lucky me, I knew just enough Spanish to keep
up a basic conversation with them. We sat on the floor and pointed to
different things in the room, trading our languages.
If the whole world could visit a place like that classroom, everyone would be a
whole lot better.
There we were, those kids and I from completely different places, with completely
different backgrounds, and we could barely communicate with one
another. And there we were, sitting and laughing when we pronounced
something wrong, connecting in a way that I didn't think was
possible. We exchanged the basics of our cultures, each trying to
learn a bit more about our roots. This wasn't the kind of learning
that comes directly from a classroom, but it was the most valuable
kind of knowledge. It was the knowledge that, no matter the
difference, we were more alike than not deep down. Deep down, we are
all the same.