Name: Cajuin Keyontae Jackson
From: Ephraim, UT
Grade: 11th
School: Snow community college
Votes: 0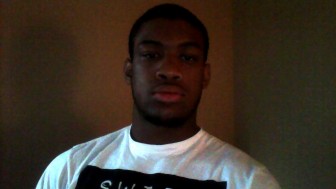 Where I'm from you don't see a lot of kind and caring people. In the city of North Las Vegas, there's a lot of violence that goes on because so many people are misguided. And I want to be the solution to that problem. My mother has always been a perfect role model when it comes to helping others in need. Not only has she taken care of me, but others such as the elderly. Even though it was just a job, she enjoyed making sure people were taken good care of. Growing up I've always wanted to help people in any way possible. Even while I was playing sports I
would always like to donate my time to help others. When I was younger, my grandmother placed my cousin's and me in this organization called 'Jack and Jill' and ever since then I've been wanting to donate my time to help people in any way possible. In high school, I have given my time to help student council when they really needed it. So that meant helping set up for school dances, giving them a hand cleaning up our sister school, and anything else they needed. My senior year, I've helped package food for the homeless at a company called 'Three Square 'and I've
also read to children at an elementary school. I've also given my time to help run a football camp on the Westside of Las Vegas for those that were in the 9th grade and younger.
But reading to the children was really, the highlight of my year. The reason being, when you're known as an
athlete you're immediately looked upon as a role model to those younger than you. Because majority of children, teens, and adults; look at athletes as motivation and inspiration to be successful in life and do what's right and shy away from the wrong. I would know because I look up to athletes for motivation and inspiration to this day. And I know me volunteering my time to read to these children will be "Forward Looking", meaning that they will look to volunteer their time to help those or to pick up a book and motivate others to read, in the near future. I believe my
activities will make a difference, maybe not a huge one, but big enough to spread all throughout my community so there can be a chance for change. But through my years of volunteering I've faced a personal challenge. The biggest challenge I faced volunteering was actually building the confidence to go out and do it. I know it sounds strange coming from a person who plays sports in front of a crowd of 50 or more people for a living, but when it comes to things like helping others I get nervous because I don't want to make a mistake. But I learned that doing these activities is similar to playing football. I learned that if you mess up, learn from your mistakes and get ready for the next play. Volunteering will always have an impact on my life, because not only am I going to volunteer, I'm working on getting a degree in psychology so I can continue to help those in need.