Name: Hannah Weller
From: Grove City , Pennsylvania
Grade: Junior
School: Grove City Area High School
Votes: 109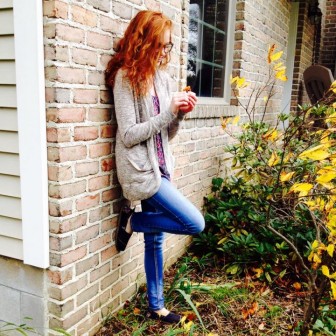 Autistic
Students: You're Not Seeing the Whole Puzzle

If you've ever met someone with autism, then the fact is that you've
met exactly one person with autism. Autism isn't something that can
be generalized; it presents a unique set of circumstances for each
person who has it. For the past two years, I have volunteered at a
two week long (140 hour) peer-mentoring program for students with
autism, called Camp R.O.C.K. At first, I was very unsure about
volunteering for this program. I'd never worked with anyone with a
disability before. However, despite the numerous doubts I had at the
beginning of my volunteer work, I have grown to truly love working
with students who have autism.
As a peer mentor at Camp R.O.C.K., my role was to model age-appropriate
social behaviors while doing a recreational activity. I also was
expected to help my camper reach a few social goals he'd set for
himself throughout the course of the day. These were tasks such as
initiating conversation with another camper, or to respond
appropriately to close-ended questions with minimal verbal cueing.
The most important job I had as a peer mentor was to be my camper's
friend. Kids with autism don't always have an easy time building
and maintaining friendships, so it was important that when they were
at camp, they had a friend who they would accept them without
judgement, and who would cheer them on in everything they did.

The first year I did Camp R.O.C.K., I was paired with a young man who
was very high functioning, and was completely self-sufficient. He
didn't need assistance in social interactions, and had no problem
doing anything that was asked of him. However, the second year, I was
paired with a young man who had limited verbal skills, avoided social
interactions, and struggled with self-control. He was kind,
energetic, and always so happy to be at camp, but was hard to connect
with at first, because he spoke very little, and was difficult to
understand. He would also take off sprinting without warning. He was
definitely difficult to keep track of at some points, but when he
would finally be able to communicate his thoughts after lots of
"repeat after me", or when he would laugh with glee at a social
interaction he'd completed, I knew that all the running, all the
strain to communicate was well worth it to be able to see him taking
pride in contributing to an activity with his peers.
The most valuable thing I've learned from my volunteer work, is that
students with disabilities cannot be labeled. They are such
wonderful, interesting, and unique people who have so much to offer
the world, if only we would look closer. I want to be a teacher
someday, so these experiences have been very valuable to me, and have
truly widened my perspective and knowledge on students with
disabilities. I can only hope that I have touched their lives as much
as they have touched mine.