Name: Philip Matthew Aurand
From: Newton, IA
Grade: Junior
School: Aurand Family Homeschool
Votes: 25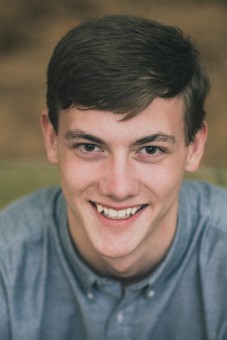 CHAC
Kidz Children's Ministry
I have had the wonderful opportunity to serve at Community Heights Alliance
Church (CHAC) over the last 4 years. It's been truly amazing to
help with their Wednesday night CHAC Kidz Children's Ministry.
Community Heights lives to love on the kids in their community.
CHAC Kidz offers a weekly Christ-centered lesson that teaches kids important
lessons from the Bible. Among these lessons are forgiveness, love,
and honesty. After lesson time, children leave with volunteer leaders
into a separate room for small group time. During small groups,
leaders have the opportunity to expand on what was taught in the
lesson. Kids are encouraged to participate and tell what the lesson
meant to them. Often kids will quote Bible verses to leaders during
this time. The kids are rewarded with points they can then redeem at
the Shine Shop for neat prizes. It's always fun to see kids getting
excited about learning Scripture. At the end of small group, prayer
requests are taken. At CHAC we love to pray with and for our kids
about anything they bring up. It can be as big as praying for an aunt
that suffers from seizures, or as small as keeping us safe and
helping us have fun during game time. After everyone has said their
prayer requests, we pray for each other. One of the kids will start
the prayer and then proceed to circle around until all the kids have
prayed. One of the leaders will finish with a closing prayer.
Afterwards, the kids line up and head to game time. The game leaders
always look to make ensure the kids have the most fun possible in the
shortest amount of time. Whether it's circle games, sharks and
minnows, or Custard's Last Stand, the kids always have a great
time.
CHAC Kidz runs from September through April. With the exception of holidays and
bad weather, you can expect to see anywhere from 100 to 200 kids on
any given Wednesday evening at Community Heights. It's runs for an
hour and fifteen minutes each night. Doing the math that means I've
put in somewhere between 120 and 150 hours. My role during those 120+
hours was as a small group leader. It was my job to make sure kids
were where they needed to be, when they needed to be there. I've
also listened to dozens of verses and prayed for many prayer
requests.

I decided to start helping at Community Heights because I've
always been good with kids. And since my brother had to be there for
JR High Youth the same time CHAC Kidz was running, it was the perfect
fit. It's been truly amazing to watch my group small grow and
mature over these last 4 years. But it hasn't been easy the whole
time. You can tell when kids enter the harder to handle, more
independant age. But looking back, if I could do it all again, I
would. Without hesitation, I would.