Name: Angelica Helton
From: Newark, Delaware
Grade: 10th
School: Red Lion Christian Academy
Votes: 0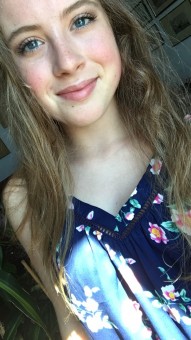 "I can't find my parents," was a more common exclamation among
outpatients at Nemours A.I. duPont Hospital than I originally
expected. After all, with the flood of patients each day, some
children were bound to wander towards the train tables, interactive
walls, or murals. Working at this hospital allowed me to see that
medical care was more than measuring weight and height or diagnosing
an issue. Once a week for 7 hours each session, I learned more about
the complex innerworkings of hospitals than I anticipated. Over the
eight weeks I guided wandering families around the hospital, played
games with patients to promote their spirits, clean patient rooms
before appointments, restock supplies, and shadow medical
technicians. However during this time, I was charged with not solely
completing the tasks but most importantly remembering to smile and
make eye contact. This simple task was surprisingly difficult for me
as I tend to be more reserved. Strangely enough the relief on a
parent's face and the joy on a child's when I requested a game
with each special patient overwhelmed my nervous presuppositions with
eagerness to distract another child from their looming appointment.
While young children learned how to play Uno, older children
unknowingly tested their own surgical extraction skills with Jenga,
and I discovered that volunteering was not work without payment. A
volunteer can be compensated with memories, relief, excitement,
smiles, and paperwork.

One poem called "Children Learn What They Live" states "If children
live with kindness and consideration, they learn respect." This
line summarizes the need for volunteerism in pediatric hospitals
because the children of now are the future leaders, engineers,
doctors, artists, electricians, plumbers, secretaries, or cooks of
tomorrow. "Forward Looking" is required when interacting with
children because respect is needed not only for others but also for
the environment, the law, and one's self. To me, "forward
Looking" means preparing the younger generations now for the roller
coaster of life that they will face in the future so that they may
have the means necessary to make more positive change in the world.
Fostering the youth to show and receive kindness will create a cycle
of rearing and receiving throughout many generations of people. I
hope to inspire not only this generation, but also the indirectly the
next. Each volunteer at a hospital makes an impact. Not a difference
that will receive recognition, but an influence that will allow more
volunteers to continue encouraging children, parents, and dedicated
staff. The unknown difference that is made is within a family or
heart. While I can no longer volunteer at this location, I was
greatly encouraged to continue volunteering with the next generation
through summer camps and after school programs. The faces that I have
been blessed to recall from my experiences are my forward looking for
the future.