Name: Tenaiya King
From: Rocky Mount , NC
Grade: sophomore
School: Northern Nash High School
Votes: 0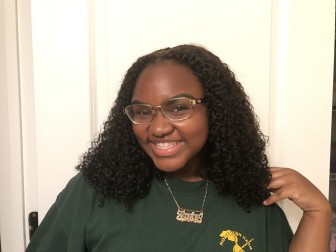 Choosing A Touch of The Father's Love Food Pantry has changed me for the better.
It was originally just another community service project that our
AFJROTC Unit participated in, but when I heard of the actual
description I was ready to jump on board. I began volunteering every
Saturday morning from 10a.m. to 1 p.m. Eventually it increased to
every Saturday morning from 8 a.m to 1pm. Overall I've volunteered
around 50 hours.
When volunteered I would:
search through and organized files of names listed in the system, and check
the names off appointments for the day.

Clean out refrigerators.

Swept the floors,

cleaned off counter tops.

Stacked boxes on shelves while preparing them for packaging.

Counted the number of each food or drink item that was required and placed them
in the box.

Took housing surveys of driving customers.

Bagged food for the walk-in customers.

Moved empty boxes to their designated area inside of the facility.
My biggest challenge as a volunteer was not getting emotional when I saw how
many people were in need of food. Seeing the joy on people's faces
when they received their box(es) or bag(s) of food overwhelmed me
with joy and humbleness. The constant thank yous and "I'm so
grateful for you working heres" that I heard really made me realize
that people take the smallest things for granted, but these people
appreciated every bit of it.
This volunteer experience has given me work experience that I can carry
everywhere I go, along with a graceful heart. I've learned that
working isn't easy, but it all pays off seeing the smile on a
family's face when they have food to eat that night.
Volunteering here, and in general terms, help me interact better with
people. With wanting to pursue the career as a lawyer, communication
and genuine hospitality is very important. Putting in hard work for
others through a nonprofit organization really tests your work ethic.
Although I had some before, it wasn't as nearly as much as it became
after continuously volunteering in the food pantry.
Forward looking is when something is going towards a future cause or outcome.
This experience betters my outlook on my life and others. Not judging
someone by where they come from or how they dress.
I want to continue to volunteer and show other kids my age all of the benefits
that it has to offer. It's more than just community service hours.
This is a mind and heart opening event that should be continued
through young and older generations of people.
Coming back in 10-30 years, I believe my volunteering would've made a great
difference. Showcasing myself as a role model for kids my age and the
younger generations to come can instill the stamina to work hard. My
friends that know me always tell me "I wanna be like you when I
grow up." It used to be funny to me but now I really see what a
difference I've made. If taking a few hours out of my day can change
someone's life, I'll do it in a heartbeat every time.