Name: Danielle Samantha Gary
From: Greenwood , SC
Grade: College Junior
School: Lander University
Votes: 0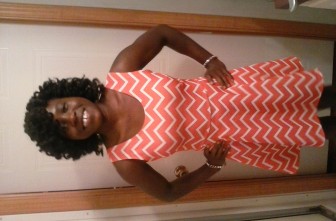 Running
head:COMMITMENT
TO VOLUNTEERISM 1
Danielle
Gary
7/26/2017
Commitment goes beyond just a promise to deliver or extend a given service to
the community. It much entails a state of dedication that comes as a
quality and an attitude that should be upheld by all individuals.
This quality brings about the zeal for extreme hard working and
fruitful support for the community service. Commitment is a
combination of full attention and diversity. These two aspects define
individuals with all round responsible principles of service. I
endeavor to achieve great not for myself, but rather for the
community at large. This attitude has facilitated my contentment,
even when the venture is deemed of no proper returns.
Volunteering provides me with an opportunity to change the community's lives,
including my own. It gives me satisfaction of being part of someone
else's life, through helping individuals who may be unable to provide
for themselves within the community. I volunteered with Agapi
Behavioral Consultants who specializes in working with autistic
children who have developmental delays. My responsibility was to help
enhance their social, emotional, behavioral and physical skills. The
goal was to help them become as independent as possible. I worked
with a lot of children in the early development stage (ages 2-5 years
old) for ten hours a week for about six months. I really enjoyed
working with this population it was so much fun and very rewarding
watching the children progress. I learned that everyone has their own
individual differences and that there is no one size fit all when I
comes to receiving treatment. My biggest challenge as a volunteer
working with physically disabled and intellectually challenged
individuals was patients. I specifically chose to work with this
population because they are the most stigmatized group. Society
treats them as if they are less capable of doing anything that the
average human being can do. Autistic individuals are very intelligent
people. Volunteering, in one way, is a means of giving back to my
community while I am developing vital social skills, alongside
advancing my work experience. My volunteer experience aligns
perfectly with my career goals. I am currently a senior in
undergraduate school studying Psychology with a minor in
Biology.
            In my commitment to volunteering, I learned that not only is
volunteering a great rewarding experience, but it as well helps
students build reputations. Through giving up a few hours of my day
to assist in building a ramp for a wheelchair bound boy, I have been
able to bring happiness in some child's life. It is true to say that
volunteering is a good way of meeting new people, learn their
cultures, as well as develop social skills that foster peaceful
coexistence among communities.
Furthermore, volunteering has served as a great example to the upcoming
generation. It has served as a platform of passing on values of
compassion, responsibility as well as ways in which one can make a
difference through personal participation in solving community
challenges. If I were to come back in ten years I believe my kind
acts of volunteerism would have impacted the world. My volunteerism
would have decreased stereotypes, decreased mistreatment and decrease
communication barriers between the mentally challenged population and
society. I see my activities as forward looking because I am helping
people learn how to overcome challenges and succeed in life. To me
forward looking is defined as having an optimistic approach of the
future.
Continuous commitment in serving the community facilitates building the
interpersonal relationship and ultimately making life more
accommodative to all individuals. It is a venture I highly recommend
to everyone in the society.