Name: Adrian Ramirez
From: Santa Ana , California
Grade: Senior
School: Santa Ana High School
Votes: 0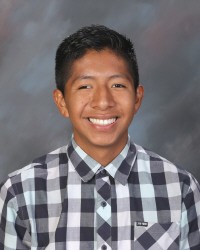 I have contributed more than one hundred community service hours to
El Salvador Community Center. I specifically helped with children
ages five to ten years old. When I first started volunteering at the
center I wasn't really sure on what to expect. At first I wanted to
complete my service hours and be done. Yet, as time went by, the more
I interacted with the kids the more I realized the impact I can make
for them just being there. At the community center I was able to
assist kids with their enrichment activities and with their
recreational activities. The different activities that I helped the
kids with consisted of arts and crafts. I even had the chance to
help choreograph a Ghostbusters dance that the kids performed for
their parents. I was really fortunate to get chosen as a volunteer
because I learned many valuable skills from the kids and the
importance of giving back to my community. I learned the importance
of patience because everyone has a different level of understanding
than other people. I was able to make my community a better place by
mentoring the little kids and inspiring them to do great in school so
that they can be successful in life. I helped them be proactive
during the summer instead of being at home by having them participate
in recreational activities. By helping out the kids at the community
center I was able to be part of a change that encouraged the little
kids to stay on the right path towards their education and not get
side tract by any bad influences. I also helped them eat healthier
because I noticed that all they would eat was chips. I asked a boy
who would eat chips every day, "why do you eat so many chips,"
and he said "because they taste good." I came the next day with
my lunch which was a sandwich, cucumbers and water. I shared half my
sandwich with him and another kid to show them that healthy is also
tasty. The following week almost half of the children had fruits with
their lunches instead of chips. It was remarkable to me that so many
children gave up their unhealthy chips and sodas for fruit and water.