Name: Caeley Baines
From: Newburgh, New York
Grade: Hogh School Junior
School: Newburgh Free academy
Votes: 1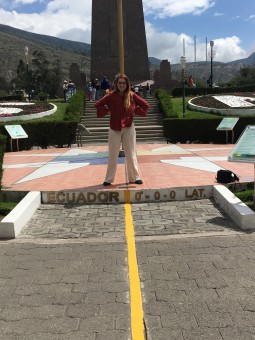 All throughout school I was the quiet, artsy kid. I never had many
friends, and I spent most of my time with my mom. I found a love for
Broadway and always saw it as a happy place. My third grade teacher
from GAMS would play the "Wicked" soundtrack in school, and I saw
my first Broadway show with him. Then, after being able to go in the
costume department of the Broadway show "Pricilla Queen of the
Desert"; I fell in love with the idea of designing those costumes,
and a few years later I discovered set design. I never had the
passion to perform on the stage since I have zero singing talent and
above all horrible anxiety. Also, I never knew there was such a huge
industry in the field of theatre design. I cannot imagine myself
doing anything else, or living anywhere else. This fall I am going to
attend Marymount Manhattan College in the Upper East Side of
Manhattan, residing in a dorm fifteen blocks away. I found a way to
fit in through my school's Key Club because the focus isn't on
being part of the popular, trendy crows but in doing service for
others.

I became the treasurer of my High School Key Club, which works closely
with Kiwanis to help better our community. My freshman year started
my community service with Key Club. Each year I helped clean up the
highway in front of the Purple Heart Museum so it has no garbage when
it is Veterans Day. Also I volunteer at the prom dress sale and
drive, the drive is held at Mount Saint Mary's college. Donated
prom dresses are sold for ten dollars each. Last year I helped
introduce a baby shower. Kiwanis works with St. Luke's hospital to
get donations of baby items for mothers who cannot afford them. In
our area there are many single mothers, further, the majority of new
mothers go home to no baby supplies. I talk to the teachers of NFA,
mainly the gym teachers and ask them if they would give kids extra
credit in exchange for diapers, clothes, toys, or, gentle lotions. At
the end I collect everything and try to separate them in categories,
then, the day of the baby shower I bring everything to St. Lukes,
help set everything up and meet the nurses. The most challenging part
of doing these service projects monthly, was always seeing the same
10 faces willing to get involved.
I've been exposed and taught to help those with special needs. When I was
a baby my mom was an advocate to an elder woman named Daisy, who I
called Aunt Dotty. Each Christmas season and for her birthday in July
we would always spend the day with her in her nursing home. When I
was eleven she passed away and I remember how devastated I was at her
funeral. It was only my family and two of my mom's friends who also
would visit Daisy with us. We were the only family she ever had,
since her parents gave her away due to her mental disability. I only
hope and pray we made her life as happy as can be. Sadly it is still
common for mothers to put their babies up for adoption knowing that
they suffer from a mental disability. Thirteen years ago when I was
five my mom's childhood friend adopted a little boy knowing he had
fetal alcohol syndrome. I will always know him as the little boy with
a great fascination with vacuums! My mom is also the autistic teacher
at NFA and on my free periods I like to hang out in her class with
her students. Two years ago my mom and I became certified Special
Olympic coaches along with other teachers. We started a Special
Olympic Track and Field team for those at the middle school and high
school. These are the kids would never be able to ever been on a
regular school team. It is rewarding to see their faces while they
run around the track even when it is just practice. At the main event
at West Point the kids get to run in front of a huge crowd that is
cheering for them! At the end of each race they have to go back to
the middle of the field for awards. They get to stand on podiums
wearing either a gold, silver, or bronze medals depending on how well
they run. The kids get all the attention, they normally do not get. I
really hope to continue working with kids with special needs. I
always saw community service as something you are just supposed to
do, like brushing your teeth. Making time to give back is simple;
most of the most effective activities I have participated in only
took one day. In the future, I would always feel it as part of me to
do something to better the community I live in. The satisfaction I
received working with Special Olympics was the most rewarding. Those
kids loved the time I spent with them and it was mutual!
Any and all scholarships would help me reach each and every goal I have.
I have lived in the same town my whole life and I am ready to
experience more. I want to live in my own studio apartment once I
finish college, and the less debt I have would help my anxiety, not
to mention, that feeling of accomplishment, that I Caeley Baines was
chosen for this scholarship!