Name: Sofia Katouli
From: Irvine, CA
Grade: 12
School: Arnold O. Beckman High School
Votes: 0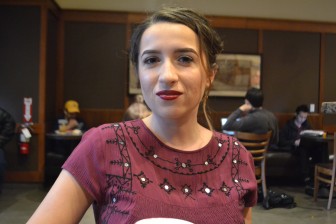 Conquering
my Childish Fear
When I was a little girl, I hardly hung out with kids my age. My best
friend was two years older than me so I would always hang out with
her age group. As the years went on, the age gap I had grown
accustomed to set me apart from little kids. I had been raised with a
heightened sense of maturity and therefore I began to dislike younger
children. That's not to say that I was rude to them or treated them
poorly, rather I found myself unable to mingle and play with them.
They were too noisy and too silly. It would make no sense, then, for
me to volunteer my time at a sunday school event where all they do is
play with kids the whole day. Yet that is the position I found myself
in.
I had volunteered for VBS, or Vacation Bible School, at my church in
July of 2015. I was an upcoming junior at the time, and I remember
asking myself, "Sofia what are you doing?"
I was going be an assistant leader to a group of about ten 4th
graders, Monday through Friday, for four hours a day. To any
experienced volunteer, I seem like a naviance. However, volunteering
for that one week has been one of the most rewarding experiences of
my life.
The first day of VBS, I waited for my girls and the head leader at our
assigned sitting area. The girls slowly entered, one after another,
but after thirty minutes, the head leader was not there. This was
very alarming. The head leader is in charge of keeping all the girls
accountable, taking them to the different activities, and the most
daunting task of all-playing with them.
I pulled aside one of the workers and explained my predicament. They
looked us over and simply said I would have to be the head leader. I
was terrified. I hated playing with children and now this would be my
job? I uneasily went back to my girls.
The first day was by no means enjoyable. I was immediately thrown into
the deep end, hanging out with kids not just two, but eight years
younger than me. I was so tired keeping everyone in one spot, helping
them with their activities, and playing recreation with them. I
didn't know how I was going to survive the whole week.
As the days went on I found myself hating the tasks less and less. I
liked how the girls would look up to me, or simply watching them
learn about God. These kids were more than just their noises and
silly behavior; and without my time as a volunteer I might not have
seen that. Through those few days of VBS I was able to understand
that not everything is centered around my self interests, rather that
serving others despite the inconveniences is the most valuable thing
one can do with their time.