Name: Omar Farooq
From: Manchester, Missouri
Grade: High School Freshman
School: parkway South High School
Votes: 0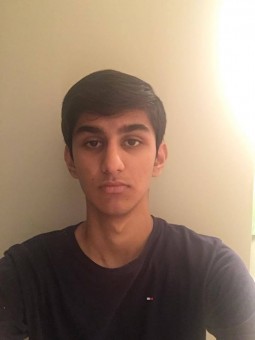 Crossing
the Divide
Brought up in a comfortable St Louis suburb, I attended education institutions that were well
funded. Resources were abundant and students were happy, planning
about their dream careers in the future ahead. This was my reality,
until while driving with my family; I came across the "Delmar
Divide". The popular Delmar Boulevard in St Louis seemed beautiful
and idyllic with sprawling mansions and well manicured lawns, until
it wasn't! Just a few blocks away, began an area with depilated
housing, throwing me outside of my comfort zone. Intrigued, I tried
to look up for more information. My quest led to an appointment with
the officials of the school board of St Louis Public Schools. These
dedicated individuals informed me that above 20%, or more than 5,000
of their students were homeless, and a vast majority comprised of
economically disadvantaged students.
The zeal and determination of the dedicated staff of St Louis Public schools motivated me to contribute
towards this cause. Hence, "Band Aids to Books" was born. Calling
upon friends and family and taking advantage of crowd funding
websites, helped me collect over 200 books for the students and some
school supplies. My family and I also helped make over 250 care
packages for the homeless. We asked for gently used book donations on
social media websites. Some of my school teachers also donated books.
Some other books were bought by the funds we raised through generous
donations given by people inspired by the cause. I went to people's
homes collecting books after school and on weekends. Many hours were
spent buying and preparing the care packages as well. The care
packages included band aids as the focal gift, hence the name "Band
aids to Books". Since, the school board operated within regular
business hours, dropping the supplies on a weekend or late evening
was not an option. I had to rush from school for the around 45 minute
drive to make it before 5:00 pm. Two to three hours a week was the
minimum spent for this initiative.
The biggest challenge was raising funds as there are a lot of worthy causes but the fact that I made a
difference, albeit not as much as to eliminate all or most need, gave
me immense satisfaction. I learnt that some school children change
residences as many as 5 times a year due to homelessness. I thought
of myself living in the same house for almost 12 years and how those
children would have adjusted to these shifts. This is an ongoing
project and I hope to donate more books and care packages to St Louis
Public schools in the future. I am happy that I have tried to make
some difference within my community. If a child would have received a
book and became interested in reading, that child might go on to
college and make a better future for themselves. So even after thirty
years, the impact could resonate.