Name: Kelsey Anne Triebold
From: South Bend, Indiana
Grade: 12th
School: Clay High School
Votes: 0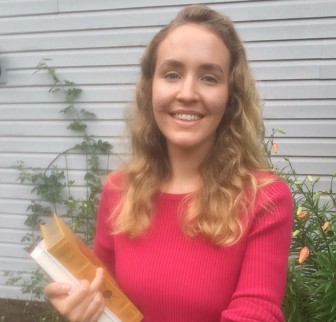 Cultivating
Empowerment and Community at the Library
I volunteered at my public library for two years, chiefly because of
its significant influence on my life. The library was an instrumental
part of my maturation and educational development. I was, and
continue to be, a prolific reader. The programs, especially the
annual summer reading challenge, encouraged me to seek knowledge. The
library also provided a supportive and welcoming community. Because
of my foundation there, my objective of volunteering was to
facilitate access to material and ultimately empower patrons.
As a volunteer, my duties included shelving material, preparing for
children's programs, stamping withdrawals, cleaning, withdrawing
books from the computer system, assisting patrons, and otherwise
helping employees work more efficiently. The minimum amount of time I
spent volunteering weekly was two and a half hours, not including
special programs and overtime. I usually volunteered for twelve hours
and thirty minutes per month. I spent about one hundred and forty two
hours volunteering in a full year.
Realizing that I was contributing to an environment like the one that welcomed
me was extremely powerful and satisfying. I got the privilege of
helping people in my community on a regular basis, and I strove to be
helpful and kind to everyone I encountered. From the young girl who
came to the library for tutoring every week to the old woman who
needed help carrying her books, I learned about all different kinds
of people connected by a common thread. That's not to say that
stamping five hundred books is not satisfying, because it is, but I
realized that people make the library community truly special.
My biggest challenge as a volunteer was balancing volunteering with
extracurricular activities. During the winter, I would drive straight
from a gruelling two hour swim practice to the library. I never
regretted my hectic schedule, as I knew my community benefited from
my efforts.
Most crucially, volunteering at the library solidified my belief that a
library can profoundly impact numerous lives. I also have learned how
to present myself professionally, be punctual, and work as a team.
Although my volunteering is not exactly in alignment with my career
goals, the skills I have learned are beneficial nonetheless.
I consider "forward looking" to mean helping people cultivate a
better future for themselves. At the library, everyone has a chance
to learn and be limitless.This institution is a means to achieve
personal growth and educational success. I remember the woman I
helped set up with online college courses. With the knowledge she
gained, she can hopefully now go on to change her life and the world
for the better; all I did was help her obtain the library's
resources.
Examples like this illustrate how "forward looking" the library really is.
When I come back in the future, perhaps I will see the results of the
library's work, but not at the physical location. The real effects
will be in my community, and that is the best result I could dream
of.