Name: Samuel Cutlip
From: Athens, West Virginia
Grade: 12th
School: Concord University
Votes: 61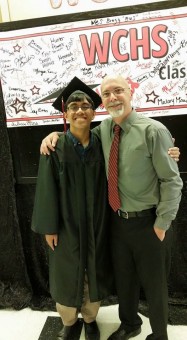 Curtain Call: Theatre and
Performing Arts
There have been many activities for which I have volunteered. One of the
best experiences that I had was for my university theatre department.
The reason why I had chosen to volunteer was because ever since I
was little, I have always enjoyed seeing plays at the theatre.
Whether it was a musical or a whodunnit play, I would always have the
time of my life.

When I first started volunteering last year, they had me working almost
the entire night for two weeks. Even though it would only feel like a
few minutes had passed, it would suddenly be a quarter after nine
o'clock when we were finished. Although it felt like it wasn't
for a long time, the long hours taught me to have patience.
As a volunteer member of the stage crew, I helped bring in all the heavy
equipment, check sound and light fixtures, made sure all the props
were in place, and even helped to record the performance. While I was
off the clock, I would get to know the other members of the crew, as
well as the cast. A lot of people do not know this but effective
communication and comradery between every member of the production
makes the play even more enjoyable for the cast and crew.
Every member of a stage crew faces challenges when things do not go as
planned. My biggest challenge was my fear of making a mistake. Even
though it was not the kind of fear that crippled my abilities to
perform, I still wish that I had talked to someone about it, just to
get it off my chest. The thing that has given me the most
satisfaction while volunteering is the opportunity to be a part of
something great. Some people do not realize that it's a thrill just
to be a part of a play, whether you're on stage or backstage.
Personally, I believe that the real magic happens more behind the
curtain.
There have been many things that I have learned from my volunteer position.
Although the most valuable lesson that I have learned is to trust
others. Everyone must trust each other in a stage crew or else the
show won't play out as smoothly as planned. As the old saying goes,
there's no I in team.
When thinking about the future in a looking forward way, I see my
volunteer position as an alternative way of supporting myself.
Employed stagehands get paid a lot of money and I always enjoy
helping backstage. To me, looking forward means thinking about the
future. What I hope to change through my volunteering is other
people's perspectives when it comes to the theatre. If one, two or
even three decades passed from now, I would say that my activities
have made a difference in the continuation of volunteers who still
help out in the performing arts.