Name: Catherine Scott
From: Battle Creek, Michigan
Grade: Freshman
School: Harper Creek High School
Votes: 0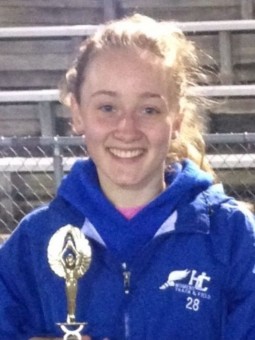 Catie
Scott
Defying
Chemistry — Creating Energy
I work for the memories of my peers. Everyone will always remember how
enchanting their senior prom was, how wild their student section was
at the biggest football game of the year, and the home-like feeling
of the school around the holidays. As the president of Harper Creek
High School's student council, I am one of the main contributors to
the school's overall atmosphere. I work towards increased student
participation and idealistic enthusiasm. With an inefficient student
council, there is no highly anticipated homecoming court, no
charitable holiday drive, and no crazed spirit days leading up to big
games.

I worked over forty volunteer hours in the 2016-17 school year. I was
one of the school's top civil servants. My responsibilities
included entirely constructing school dances, creating fun new weekly
activities such as donut days, and imagining opportunities for
student body bonding such as dodgeball tournaments, powderpuff
sports, and monthly spirit assemblies.
My biggest challenge as the president of student council is, of course,
student participation. Many kids at my school think a bit too highly
of themselves to participate in games at assemblies or to wear the
themed clothes to sport student sections. My goal as the president
this year is to entirely increase not only the obligation of spirit,
but to make studentswant to
be a part of the student section. I want our student body to vye for
energy and passion about our school.
I can't quite explain the relief and joy it brings me to feel the
student spirit rise up and develop into a ferocious, dominating,
exciting presence; to feel the presence of hundreds of individuals
entirely unite during football, basketball, and volleyball games (the
most watched events at my school) is unforgettable. To feel passion
throughout our school for our school is what I work for. When I think
of the students of my school coming together and feeling the
intensity of their spirit, I am proud.