Name: Zion Kamau
From: DeSoto, Texas
Grade: 11th
School: DeSoto High School
Votes: 0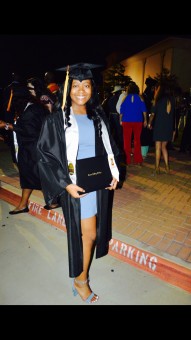 It wasn't until the year of 2007 did my father fully retire from the
United States military due to injury from a tank explosion. According
to the Veterans Affair Hospital, he is 100% disabled just not
wheelchair depended. I wanted to spend every second of the day with
him when he arrived home. My father created a non-profit
organization, North Texas Oilers, which was the perfect time in my
eyes to try to create memories. From being a junior coach and mentor
so long I grew a strong passion of helping and teaching individuals.
I developed a passion for helping children. Children are extremely
impressionable and naive. I obtained this knowledge by being a junior
coach and mentor in my father's youth organization. They could be
influenced to do anything. It was obviously from them being naive and
the belief that everyone intentions are innocent. One incident
happened when we were cheerleading at a game and that we were
winning'. The girls' spirits were high in the sky and all over the
place. At the time of the gift exchange, I directed all the girls to
the opposite side while I went to retrieve the gift basket. By the
time I reached the other side of the field my cheerleaders' spirits
were in the dumps. Apparently, the coach and cheerleaders of the
other team were acting unfriendly and refusing to give the
cheerleaders' their basket. I had the girls retreat to our side and
I just gave them the basket that we were giving away. I explained
that some people don't know how to treat people nicely when
something isn't going in their favor. In no time, most were back to
cheery personalities and high spirits.
Even though, I started volunteering my time towards the organization to
get closer to my father, I found other things I love as well.
Eventually the group expanded out to a community based organization.
I took on an idea to adopt a street so I joined the "Keep DeSoto
Beautiful" group and the organization adopted the main street
"Parkerville". Also we started Help the Homeless Sundays we
gave at care packages with included 1 lunch, a toothbrush with
toothpaste, socks and a disposable face wipe.
I look forward to attending a four-year university. I plan on majoring
in psychology and seeking teacher certification. With that degree, I
would either go to medical school and become a psychiatrist at the
Veteran Affairs Hospital or become a Child and Adolescent
Psychiatrist at a private practice. Regardless what path I take I
know the need to help people make appropriate emotional connections
is my lifelong goal.