Name: Emily Thompson
From: Bryn Mawr, PA
Grade: 10
School: The Baldwin School
Votes: 0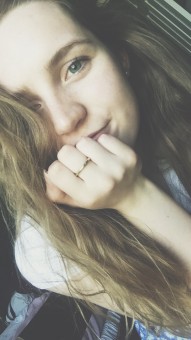 Emily
Thompson
08/01/2017
First,
A Reader
I always have been and always will be, first, a reader. Curious,
questioning, voracious- that is me, constantly consuming and adoring
information and stories. Not only that, but I am constantly sharing-
telling others about the book I am currently reading or the quote I
cannot seem to get out of my mind. I suppose that is the true
definition of a passion: something so consuming that you cannot
contain it. So, of course, I did not contain my passion for books; I
began volunteering at my local children's library to share my
passion with anyone who walked through the doors.
I began the summer after 5th grade and have continued every summer
since, increasing my commitment to helping out at my school library
during the school year as well. At my local library, I'd help out
for two hours a week by shelving books, finding books that people had
put on hold, getting books from the drop-off bin, and shelf-reading
(making sure all of the books are in the proper order). Of course, my
favorite part of the shift would be when little kids needed help
finding a book or needed a recommendation. I'd smile
uncontrollably, wracking my memory for the perfect book from my
childhood:Nancy Drew, Amelia Bedelia, Angelina Ballerina, Harry Potter.I
got my satisfaction from sharing a part of my childhood that I would
hope some kid would appreciate just as much.
During the school year, starting in 9th grade, I began helping out at my
school year 75 minutes a week. I was still shelving books in addition
working on our social media campaign on Instagram. This position was
far more challenging not because of the new responsibilities but
because I had lost sight of why I was volunteering in the first
place. I had to juggle my overwhelming course load, activities, and
social life with volunteering hours, which led to a decreasing
motivation towards volunteerism. Instead of ending my commitment,
however, I convinced myself to finish out the year. What I realized
was that volunteering at libraries is something I love to do; it
sparks joy in my life and adds value. Not to mention, it helps make a
difference because twenty years from now, kids and adults alike will
remember the books they've read and how they helped to shape that
person's identity and future.
While I do not anticipate pursuing a career in the field of libraries,
reading will always be a part of my future because I believe we must
learn from others in order to be the best we can be at whatever
career we choose. That is why involvement with reading and libraries
is so important; we learn from others and the past so that we can
have optimal success looking forward into the future. Through this
activity, I hope to inspire and help others to learn and grow through
the timeless art of literature.