Name: Charlotte Magdalena Utash
From: Simi Valley, CA
Grade: Sophomore in College
School: charlotte.utash@gmail.com
Votes: 2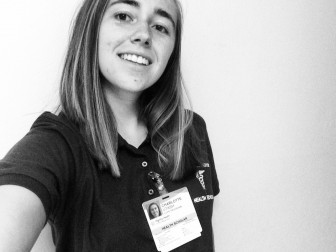 Give My Heart for Others to be
Heard
In my experience, it is the act of showing up and providing compassion
that leaves the everlasting impact. My name is Charlotte Utash and I
have been volunteering at a hospital in Long Beach for over a year
now. I strongly believe that I have learned more from the medical
professionals and patients in one year than I have in my entire life.
In my mere four hour shifts per week I have the ability to give back
to my college community, through feeding, bathing, repositioning,
discharging, running errands for and helping or lending a loving hand
through conversations.
I had no idea when I set foot onto the St. Mary Medical Center campus
that I would be able to connect with my future career as an
occupational therapist in such a deep environment, as well as explore
potential other professions. I have been mentored by doctors, nurses,
physical, occupational, and respiratory therapists, as well as
others. However, what makes my experience as a Health Scholar the
most worthwhile is the time I get to spend talking to patients and
hearing their stories. I am more than a volunteer or a helper for the
nurses, I leave an impact on my internship. I am the helping hand or
voice for the patients when others disregard their calls. I am the
voice of reason or the hand they need to hold when times get tough.
But I am also the messenger, the runner, and the voice on the phone
line. I am the first line of defense.
I want to be sure that others realize that working in a hospital is not
as easy as it seems. It is a lot of work without any time for breaks.
I am fast walking down the floors, picking up medical equipment,
running specimens to the lab, or cleaning when others are too tired
after a long 12 hour shift. I want my work to show my character, to
lead by example for the high school students in the program. I want
to give my 100% effort so the patients have the best experience as
possible in the hospital. I want to change the negative thought of
the hospital into a welcoming and inviting environment, despite the
circumstances which led the patient here. I have dedicated and
donated my time to the hospital to serve.
I am at around 200 hours volunteered thus far, but I want to expand
upon my time and provide and give as much as I can, without accepting
care in return. The care and love from the patients is enough for me
to stomach, to love, and to grasp onto for hope.
I want the patients' voices to be heard, and I want my dedicated
volunteer service to show that a small college kid can leave a big
impact on the world.