Name: Kayla Elizabeth Carvalho
From: el paso, tx
Grade: 10th
School: Eastwood High School
Votes: 0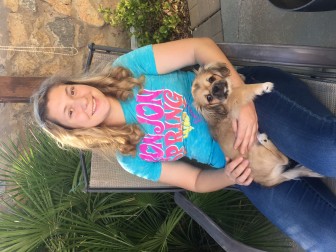 One of the differences between man and dog is a man can speak for
themselves and often dogs are left vulnerable since they cannot. My
dogs are my best friends I talk to them like they can respond and my
family spoils them, but not every dog can be treated that way because
they might not have a family. I volunteer at Pet Guardian Angel with
the dogs to help them find their forever home and be able to express
themselves. When they find their family they can have the same bond
with their owners as I have with my dogs. I first started
volunteering at the shelter when I was ten years old, I knew from a
young age that is what I wanted to spend my Saturdays doing. I try
and go one Saturday a month and I usually spend 7 hours there, which
is a full business day. Even though I started at a young age I have
always done a full plate of work, my job depends on how busy we are
that day. A typical day is feeding the dogs and after breakfast
taking them out to the runs and playing with them and cleaning the
kennels. Other times I walk them around, divide up food into bags, or
bathe them, my favorite thing to do is to play with the dogs and
train them how to interact with humans. At the shelter, dogs are not
able to act how they would be expected to in a household but by
working with them I can show them good behavior. When potential
adopters come around they want the well-rounded happy go lucky dog
and not the one sulking in the corner. The reason I do this is when I
leave the shelter I see the dogs change a little bit more every time,
they come out of their shell and are happy to see people. I have
learned that even though I do not do much to help the dogs actually
get adopted I am helping them in a different way. It changes their
personality and their life for the better and that's what brings me
joy. I have always wanted to be a veterinarian and that is why I
chose to volunteer with animals, I will continue to volunteer at
shelters in the future. Forward looking to me means once you have
continued on with life, will you acknowledge your roots of
volunteering that have shaped you. I want the idea that you can
volunteer at a shelter and still help the animals without directly
adopting them. Many people do not volunteer because they do not think
they are helping by just playing with the dogs when in fact they are.
My volunteer activities will make a difference on the dogs at the
shelter who will have been adopted out. Hopefully, the people I will
have impacted the most are other kids who are adopting dogs; who see
how my volunteering has impacted dogs.