Name: Joshua Nathaniel Barba
From: Santa Paula, California
Grade: 10th Grade
School: Santa Paula High School
Votes: 0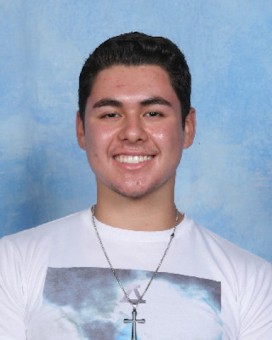 Joshua
Barba

Giving Back to the Community
Coming into high school, the concept of volunteering in the community never
entered my mind. I came from a small school and I didn't understand
what volunteering meant. When I arrived at high school, I learned
about clubs. So, I signed up to a lot of them without knowing what
they meant. But, when I became a member of a club called Key Club,
things changed for me. Key Club didn't make keys; the club was
about giving back to the community by volunteering to help out people
and make our community a better place.
The day I went to sign up for the clubs, I saw a lot of people gathered
around the Key Club table and that made me decide to sign up. The
first two year in the club I barely got any hours because I didn't
see clubs as something important. But, my older brother was in the
cub too and he gave me a talk and how clubs mattered. And in my third
year in the club, I basically did almost every community service
event that the club offered. With only 15 hours in my first two years
total, I managed to get 35 hours in my third year in the club.
When I did volunteer for the community service in the club, I made sure
that I was responsible by getting the job assigned to me done and
done well. Plus my friends did the club too and that made the
community service a little more fun. While I was in the club, I was
also participating in sports. Participating in sports made it hard to
volunteer for the club because I was busy and I couldn't do that
much community service. In my first two years I did football and
track, and in my third year I only did football. Only doing one sport
in my third year helped me get a lot of hours in the club.

In volunteering for my community, I felt accomplished and great because I helped out the people who live here
and make it a better place for them. And from volunteering all those
times, I learned you don't have to get anything in return when you
do something for someone. The only thing I received after
volunteering was relief because I wasn't helping out myself; I was
helping out someone who needed help. Helping others who need it
prepares me for my future goal of becoming a doctor. Knowing that a
person I helped out is satisfied after I helped them is the best
thing to receive after the job is done. When all the community
service is over, our community is slowly getting better from what we
do and it will make our community a better place for people to live
in and make those people proud of where they live.