Name: Carmi Tatnai Reynaga
From: Huntington Park, California
Grade: 12 grade
School: Long Beach City College
Votes: 0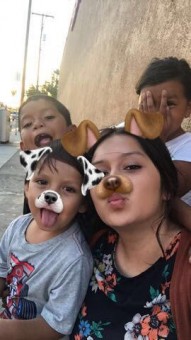 Carmi
Reynaga
July
25, 2017
Giving Back
Volunteerism, in my opinion, plays a very important role in a man's life. It
demonstrates what kind of person you are and can generate humbleness
in a person. It can result in a better future for mankind.
Volunteerism shows a person's commitment and devotion for he/she's
work. It also creates character and helps form one's figure for the
future. I can say volunteerism is essential in a person's life
especially now days. In today's world, volunteerism gets you places,
get's you the job, and even gets you into your dream school. It is
all the time and everywhere that they ask for your volunteering
history. But, why is volunteering so important? Well let me tell you,
volunteering gives you experience. It also makes your resume look
amazing! Jobs and schools really, and I mean really, look into your
volunteering history. It gives others an idea of who you might be and
allows them to know a little more about you. Volunteerism, like I
have said, creates character and shows willingness from your part.
Let's just say that if your running against a person for a job, whose
resume is full of experiences, you're most likely not going to get
the job. There is a lot of places where volunteerism is accepted. For
example, the animal shelter or your city's Library. I myself have
chosen to volunteer in my church because it is my way in giving back
to my community, my family. I have been taught by a Servant of God,
my father in faith, to give back to my church which is the reason I
do what I do. In my church, The Light of the World, I tend to help
and teach the children. I first help them to read and understand
passages of the Bible. Then I help them in anything that they might
need help in with their homework. I help them solve Math problems and
understand their reading assignments. My job in this is to make sure
that they are not behind in their studies. I usually do this twice a
week, making it a couple of times through-out the month. Once a year
I help the elderlies to create events that will celebrate the kids
and encourage them to continue in their studies. The best thing of
all this is that I enjoy doing what I do. Working with kids gives me
confidence. It allows me to use my leaderships skills and
interpersonal skills. The biggest satisfaction in all this is that
I'm helping out the kids. In a way, I'm creating the next generation
of the future and that gives me the goosebumps, but I love it. It
makes me feel great knowing that I'm helping them strengthen their
weaknesses. I just hope that my work will help develop future doctors
and lawyers. I myself, have learned a lot from their little minds.
Children now a days are extremely smart. I sometimes feel like I'm
learning more from them than they are from me, it's unthinkable.
Working with the children from my church has exposed me to so many
mindsets. I've learned ways in how to work with kids that only have a
fixed mindset, where they believe that their intelligence is limited
and others with growth mindsets who work hard and play hard. It's
amazing how much you can learn from such little minds. Like the
Spider-man quote says, " With great power comes great
responsibility". Of course, I face challenges, most of them
being time wise, but I manage to make time for the children. It's
like I'm killing two birds with one stone because helping the kids
gives me the experience I need in my field of work. Obviously, my
work with the kids isn't going to be in vain, I know that when
applying to certain jobs, my work with the kids will come in handy.
Volunteering in things you love will help you, it will give you that
extra push you need to obtain that job. Maybe if it weren't for that
volunteer work, you wouldn't have received the job or you wouldn't
have gotten in to your dream school. So, yeah, volunteering
activities do make an impact, a positive impact.