Name: Charde Spates
From: New Haven, Connecticut
Grade: 11th
School: Metropolitan Business Academy
Votes: 2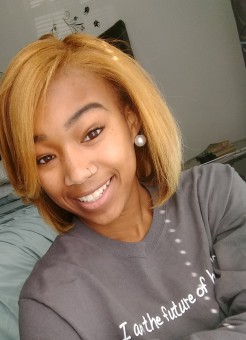 Charde
Spates
July
9, 2017
Growing up my career choices always fluctuated, I went from wanting to be a
fashion designer, to chef, then to teacher. I even wanted to be a
singer! (Although singing isn't my strong suit). When I got to
highschool I realized that I needed to know what career path I wanted
to take, and for some reason I landed on being a teacher. I had
volunteered with Big Brother Big Sister the previous year which may
have had an influence on my decision to want to work with children,
however I felt like I needed more insight on what being a teacher
actually consisted of. In order to get a better feel of what working
with children would intel I decided to volunteer at an elementary
school in the area. At the elementary school I volunteered in a pre-k
class, my duties consisted of me printing out worksheets for the
students, helping them get ready for nap time, creating artwork for
the class, helping the student clean up, and lastly, helping the
teacher as well as teacher's assistant whenever they needed help. I
volunteered for three hours every week.The most challenging part of
volunteering was feeling like I wasn't doing enough, I always felt
as if something needed to be done although the teacher would assure
me that there was nothing to be done. Having too much down time is
challenging for me I constantly want to move around and do something.
However, I must admit that it is very rewarding to see the smile on
the students face after you have helped them open a juice box or
admired their coloring, it's the small things that count. After
volunteering in the pre-k class for the school year I learned that
being a teacher is almost like being a second parent, especially when
working with such young kids. I learned from my experience in the
classroom that you can not take your teachers for granted!
My career goal has changed once again and I am now focused on becoming a
gynecologist, due to this my volunteer experience does not align with
my career focus, although I must say volunteering in that pre-k class
was an amazing experience. "Forward looking" in my opinion means
preparing for the future, this experience has helped me to chose a
career choice that is better suited for me. I hope that my
volunteering activities will inspire students my age to give back to
their schools and explore career choices via volunteering so that
they will have first hand knowledge of that career path. I feel as if
I were to come back twenty or so years later I would have made a
difference by volunteering, hopefully other student would have been
inspired by my actions and follow in my footsteps, not only to
explore different career choices but to help within their community.
I hope that students will see that volunteering is not just a way to
get community service hours to graduate, but to better their
community and the people in it.