Name: Jordan Cassi Ashi Rome
From: Norfolk , Virginia
Grade: 10th
School: Granby High School
Votes: 0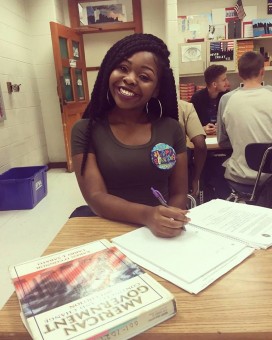 Jordan
Rome
Helping Them Love Themselves.
In 2012, my Mother and I created an organization that worked with girls and young
women to teach social poise and etiquette and to boost young ladies
self-confidence. She chose me to assist her in this development
because she saw the challenges my peers and I dealt with. When I was
younger I had extreme asthma and eczema issues. I had to take
medication daily to calm the itch and flare ups. The medication,
steroids, led to me gaining extreme weight. While in elementary and
middle school, of course I was bullied for my overweight appearance.
Kids have a way of being cruel. So to cheer me up a sleepover turned
into our organization known as She'Matters G.I.R.L.S. Inc. The
organization hosted events and workshops that focused on recognizing
our worth and understanding our self-esteem, twice a month. As we
grew, we realized we could help more girls better build their
confidence. Through this realization, we hosted a conference every
year in September and called it the ImPOWERful Girls Conference.
This conference encouraged young ladies to never lose sight of who
they really are because they are beautiful, inside and out. Once they
acknowledged the fact that they are, nobody on this earth can tell
them otherwise.
As a founding member but most importantly a volunteer of the organization,
I am responsible for making sure everyone knows about the upcoming
events and updating the social media pages. Basically, my role as the
Jr. Executive Director is to keep everyone connected. My biggest
challenge as a volunteer was meeting young ladies who didn't love
themselves. It's like watching a house on fire, with people in it
and you have no way to help. Young ladies who are blinded by their
own potential and beauty because all they know is what they cannot
do. Meeting young ladies who were exactly like me: lost, deep in
their own insecurities with no idea of how to get out and no effort
being made to do so, was a challenge. The greatest feeling is
watching them grow. Watching them transition into ladies that let
their true colors shine through regardless of what people say or who
is watching. Seeing that they have accomplished the task of loving
themselves first before anybody else can is a tremendous
accomplishment. In this position I've learned that self-love is so
important. Malcolm X stated, "A man who stands for nothing will
fall for anything." I firmly believe that women who are able to
mature mentally and who can apply this principle to their lives can
achieve success in recognizing personal worth. You have to truly know
who you are. Knowing your worth your behavior, attitude and overall
disposition will shift. Knowing your worth will demonstrate your
level of confidence. When old behaviors present themselves from
peers, your entire body will showcase that you have changed which
will demand them to do the same in your presence. Being both a part
of a volunteer of She'Matters GIRLS, Inc has taught me this and so
much more.
My volunteer experience has taught me even the dull and inconsiderate
have a story and everybody deserves to know how it feels to have
confidence in themselves. Once I graduate I'd like to be a
psychologist, preferably in the military. I want people to know that
they can release their issues with me and from our discussion,
believe that they can push forward and achieve their greatness. Life
is a journey. What I taught during my volunteering time within the
organization, I will also share with those in my professional career,
that you are the author of your destiny. Helping them to understand
their life's purpose is essential. It is empowering others to renew
their minds to achieve their greatness. To me looking forward means
to disregard your current situation and look forward for better days
that are to come. I will change the world by providing
self-empowerment into others! Everyone deserves the right to believe
they are beautiful. If I were to come back in ten, twenty, or maybe
even thirty years I do believe that my activities will have made a
difference. The ladies that we work with are our next generation and
with love in their hearts, empowerment on their conscience, and
success on their minds they can achieve anything.