Name: Aashish Thoutam
From: Tampa, Florida
Grade: 10
School: Middleton High School
Votes: 1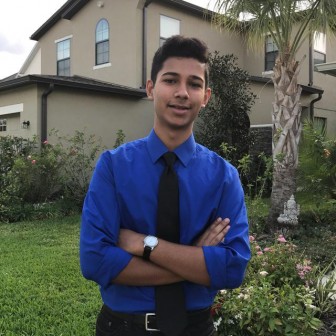 Growing up, we've all been given the same lecture by our parents – "don't take things for
granted; you don't know how privileged you are". When the
average teenager hears the word "privileged", they might
think about how they have access to free public education, or even
how lucky they are to have the latest iPhone, but what doesn't often
come to mind is how privileged they are to just be able to sleep with
a roof over their heads, or how easily they can look to the fridge
whenever they're hungry instead of having to look into the eyes of
generous strangers. Homeless Americans struggle every day, and it's
estimated that a person dies of hunger every ten seconds. So, by the
time you've finished reading this essay, that's about 15 people gone.
Ever since I was in middle school, I've committed myself to volunteering at least twice a month
at Feeding America, an organization with nationwide food banks that
feeds the homeless. As a volunteer, I was accountable for checking if
donated food was expired, and then further sorting the ones
considered good-to-eat into specific categories. The biggest
challenge was finding the time. Most kids would choose to play video
games or go to the mall over rummaging through boxes of rotten
potatoes, but understanding that what I was doing could be the
difference between life or death for someone was enough to keep me
going.
When something is "forward looking", it means that it doesn't just spark change now, but
instead fosters permanent, long-term progress. Volunteering to help
feed the homeless fosters growth among some of our country's most
neglected, and it can help bring to light leaders and innovators who
would've otherwise been hidden in the dark.

Working at the Feeding America warehouse, I couldn't directly see the fruits of my labor, so what
gave me the most satisfaction in my work was seeing my friends and
relatives join me in helping others, as I spread the message to them.
If I were to look back at my activities ten or twenty years later, I
think I'd realize that the work I'd physically done at the warehouse
didn't directly save anyone's life. In fact, I'd probably just saved
another worker a few hours of packaging. However, that's ok, because
that's not the point of volunteering. The point is that it changed
how I viewed the world around me and how I viewed myself, while at
the same time taught me many invaluable skills, like how to
effectively work with others and manage my time. I was happy to
realize that I could make a big impact by volunteering but learned
that I could make an even bigger impact by inspiring others to
volunteer themselves and become advocates for forward looking social
change. This is the change I wish to see in the world, and
volunteering is a big step there. I alone can't solve America's
hunger crisis, but with the cooperation of others, together we can.