Name: Theresa (Starr) Morgan
From: Kent, WA
Grade: 10
School: Kentridge High School
Votes: 0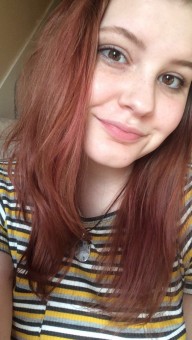 Theresa
(Starr) Morgan
14
June 2017
Youth
Forward Scholarship 2017
Inspiring
a Dance-Filled Future

In
the spring of 2016, my dance teacher asked me to assist in five dance
classes, every Saturday from the month of January until May. My
teacher was in the middle stages of her pregnancy, and was not able
to teach her ballet and tap classes alone anymore. When asked to
help, of course I happily accepted. Since the age of two and a half,
dance has always been such a huge part of my life, and I was more
than excited to be able to be an assistant teacher. I volunteered
every Saturday, assistant teaching five dance classes – four ballet
and one tap. Being at the dance studio for my own classes, as well as
the five classes I assisted was such an amazing experience for me.
There is a saying that goes somewhat like "if you want to learn
something, teach it." I think that saying can really apply to my
volunteer experience. I personally improved and grew in my dance
technique and skills, as well as my skills of learning patience and
communication. My job as a volunteer dance assistant was to help
teach the ballerinas and tappers their routine, as well as work on
technique and managing a room full of anywhere from five to twenty
energetic dancers. I worked with kids of all backgrounds, ranging
from aged 4 to 14. The diversity of everyone at the dance studio
provided a good learning experience for me, and I was able to learn
communication skills. It was definitely difficult to maintain control
as a teacher in some of the classes, especially with the younger
ballerinas; they certainly had a lot of energy. However, the best
moment for me was with one particular ballerina in the pre-ballet
class. She came into the class very shy, and did not want to dance at
all. However, when I held her hand and danced with her, she warmed up
to me. From the first day of class on, she stayed near me every
class, even at the recital. It was so heartwarming to have a young
ballerina trust me, and dance as long as I was beside her. Seeing her
finally come out of her shell and dance at the recital was one of my
favorite moments as a volunteer. In the future, I hope to be an
elementary school teacher and one day open my own dance studio. Being
a volunteer gave me the opportunity to work hands on with the
ballerinas. I was able to show them my own personal passion for
dance, and I hope they take that passion and apply it to themselves.
Dance is such an amazing art form of expression. I have been a dancer
for nearly 15 years, and to be able to volunteer in the same area was
such a blessing for me. I hope the ballerinas and tappers in those
five classes continue to dance and share their own passions with
others.