Name: Elijah Ceplecha
From: Harbor Beach, Michigan
Grade: 12th grade in 2017/2018
School: Harbor Beach High School
Votes: 0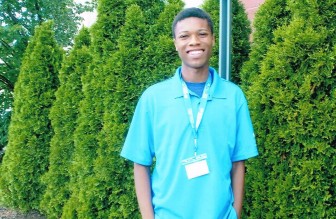 It
is a Rewarding Experience

I have chosen to give back to my elementary school. I attended a
parochial school for the first nine years of my education. As I grew
up, I learned the importance of volunteering in a parochial school.
With the help of the volunteers were able to put on school programs,
maintain our playground, put on fundraisers to support our school,
and have successful sport's teams. These are all reasons why I
volunteer at the school now, even after I have left the elementary
school.
I volunteer
about two to three times a month doing various jobs. Currently, I am
in charge of collecting, sorting and delivering our recycle items. I
also help out by washing dishes for dinners sponsored by the church.
I have also been asked to help with the landscaping of the property.
I find the
biggest challenge with volunteering isn't the actual work. It is
the lack of help others are willing to give. There are only a few of
us that have returned to help out. This disappoints me because when I
was a student we would see all sorts of people helping out with
various projects.
I gain the most
satisfaction in volunteering from the adults that I help. When the
adults notice what I have done and comment on it, that gives me a
proud feeling about my accomplishments. People noticing that sticks
have been picked up from the yard or how great the playground looks
makes me proud to think I helped make that happen.
I have learned
that people do notice when you volunteer. Sometimes they will
actually tell you but many times they will just continue to ask you
to help, which means they appreciate the job that you do. Even though
it is sometimes difficult to get started on a volunteer job, in the
end it is rewarding.
I hope that I am
showing other students the importance of volunteering. I hope that
they see me volunteering and think that is something that they want
to do because it is rewarding. Volunteering is step in forward
looking. Forward looking is to have concern with the future. If we
don't have volunteers then people in the future will be missing
out. The volunteers will be missing out on the satisfying feeling and
those who need volunteers will not be able to offer all of the
extras.
I hope that if I
returned in the future I would see many of the next generation
following through with some of the same volunteer jobs that I once
did. People that helped out when I was in grade school made a
difference in my life. I feel that I am making a difference right now
and I hope those in the future will continue to make a difference and
have a gratifying feeling about the job they have done.