Name: Tierra Starks
From: Memphis , TN
Grade: 12th
School: Craigmont High School
Votes: 0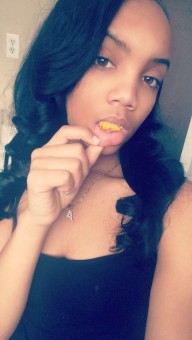 Tierra Starks
July 3rd,2017
Memphis,TN
In my early years
of high school, I can't really say I was as involved as much as I
am now in school. I have always been engaged in my grades and sports
however, I just never really knew how to be involved IN school such
as clubs, organizations etc, because most of my schools never really
had them. Fortunately moving into my eleventh grade year, I moved to
a school that was more involved in more culture and participation. My
eleventh grade year is the year I really had an opportunity to really
explore my horizons and branch out into different organizations. From
the past year I have joined the clubs of FBLA, National Honors
Society, Student Council, TSA, Robotics, and became a Junior
Ambassador. Becoming more involved in my community, and school has
revealed my love for helping others, while also making a change.
Stumbling upon
this year, working with organizations: National Honors Society (Vice
President), Student Council, and Robotics (Team Leader) I have been
able to put in over 50 hours of community service in just one and
half semester(s). Working with these organizations, things were not
solely upon adults, it was among students as well, which made with
working the clubs more free and expressive for students. As groups,
we had to put our heads together to schedule, sign up, and plan
approval meetings with the principal to get activities approved. We
also had to show up ready to work while also learning to how to work
with others and for others. Throughout the year working with the
different clubs, the main issues I ran across was managing time,
scheduling, and the sleepless evenings of working prom night til 12am
for Junior Ambassadors, and waking back up at 7am for the March of
Dimes walk for National Honors Society. Timing became hectic but it
was worth the fun and experience.
As far as
working with these groups and different people, I have definitely
enjoyed working with my peers the most. However, there are many
enjoyable moments in volunteering, such as: watching everyone's
face light up from the beautiful decorations you have tirelessly set
up for them, enjoying the pleasure of getting to know your peers,
being recognized for your hard work, and lastly never getting tired
of giving your all to help others. Ultimately from working with
volunteering, I have learned the qualities of being humble, selfless,
and courteous. I have learned with volunteering, it's not about
what you can get, but what can you give. Through the work that i have
done I can say for my future it is most definetly an asset for my
future career of helping others, and a hobby I wouldn't mind
engaging into my life even after graduation. Volunteering, in my
opinion, has instilled qualities only one must learn from both ends
of the rope. And through what I have done, I hope to see more
involvement throughout communities of the world, because small
actions can leave to giant impacts. After graduating, I want to go in
to the non- profit community and possibly create one of my own that
open doors for students, and gets young people more involved in thier
communities and schools, while influencing them to be encouraged to
continue the legacy and possibly mutliply what I have done. After I
five, ten maybe thirty years and come back to my alumni
organizations, I'd like to think that there would be even greater
that I left them, I feel that after this year I will have set the bar
for the future students and the baton would be taken from there. This
year I plan to open up the doors for students to express themselves
more and become more engaged in what we need more around our school.
With spirit weeks, Marathons, and campaigns, I hope to trigger
creative minds, more volunteers, and members with the help of the
activities planned. I hope to serve greatly this year to trigger
love, emcouragement and more involvement within the school, and get
more students out of the box of thinking "school is only school".