Name: Adam Larson
From: Liberty, Missouri
Grade: Sophomore
School: Liberty North High School
Votes: 151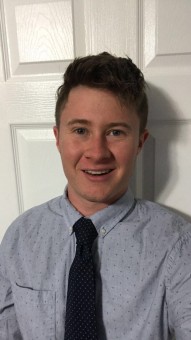 Leading
Future Leaders
Adam
Larson
Since becoming a boy scout at the age of six, I've had plenty of time to
develop a volunteer's spirit. Scouting creates a mentality of
service to one's family, community, and country. Often times,
however, scouts will volunteer for small scale projects: a highway
cleanup, a food drive, an Eagle Scout project, etc. It is less common
for an individual to really devote themselves, their time, and their
energy to a cause they believe in. In 2013 I found my cause.
That summer, two of my closest friends and I attended a program sponsored
by the Boy Scouts of America called National Youth Leadership
Training–NYLT. This program teaches the youth in our council how to
become leaders in their home units, but the lessons learned there are
lessons for life. We practiced public speaking, problem solving,
group dynamics, time management, and so much more. The program was
solid, but the staff really made an impact.
Everyone looked up to the youth volunteers there. They ran the show. The
adult's responsibilities included taking pictures, napping, and
making sure nobody died. The youth staff really embodied what "Youth
Led Program" means. I wanted to be just like them, so I joined the
NYLT staff the following year and loved every minute of it. I enjoyed
my time with NYLT so much, I returned another three years. The camp
is a nine day commitment for staff with an additional six day
commitment for pre-course work days. I estimate that, in my four
years on staff, I volunteered one thousand hours to this program. I
don't regret a single second.
This year, my last with NYLT, was a particularly challenging experience. I
served as the Senior Patrol Leader, which is responsible for
overseeing and managing all operations of the camp. There is a huge
amount of responsibility associated with this role. Not only do you
have to ensure the program runs smoothly, you also have to forge
relationships with everyone around you in order to become a solid
team. However, the satisfaction that comes from seeing one of your
students become a great leader is worth everything.
I said before that NYLT teaches lessons for life. Communicating well,
problem solving, goal setting, just to say a few, are essential
skills for everyone's future. I'd say that's forward looking.
The whole reason I volunteer with NYLT is to help create prepared in
capable leaders. Even if there's just get one, I'd consider that
a success. These lessons are timeless and will still be in the back
of the mind decades down the line. I hope I've left a similar
impression on these scouts as was left on me.