Name: Peter Nguyen
From: West Chicago, IL
Grade: 12
School: West Chicago Community High School
Votes: 0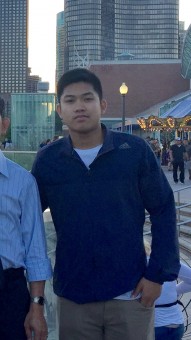 We
are told from a young age that the gift of giving is one that should
be valued and applied to our lives. The act of volunteering is an
example of this merit. It wasn't until recently that I actually
understood the importance of doing so.

I signed up
to help a Special Olympics basketball tournament held near by. It had
been for a school-related volunteer based club that I was a member of
to gain some required volunteer hours, but I left with more than I
had anticipated. I was asked to work the merchandise stand with other
advisors. My initial thoughts were to sell apparel and accessories,
finish my shift, and go home afterwards. As the event was starting to
fill up the atmosphere instantly changed. At any sporting event you
would think that there would be a competitive demeanor in the players
and the crowd, but I witnessed what was a supportive and motivating
atmosphere. Parents and players were smiling from ear to ear as high
fives were exchanged all around. The people sported their newly
purchased t-shirts, branded "Special Olympics", with immense
pride. Never have I been part of a sporting environment where the
focus wasn't to win, but to have genuine fun. I was fortunate
enough to view one of the events and see the players themselves. Many
put on their game faces and laced up their sneakers ready as ever. As
an athlete I understood exactly what they were experiencing– the
pregame rush. These special olympic players were no different than I
was. Time flew by unnoticed and my shift had ended.
I
came out there that day with the realization that the act of
volunteering wasn't just helping out other people; it also
betters yourself with lessons that last a lifetime. I quickly became
fond with the idea of volunteering. I've been involved with packing
food at a local food pantry for the underprivileged, I help supervise
and set up different events for multiple park districts, and I've
helped run a fundraiser for the fight against cancer. Along the way
I've picked up things that I wouldn't have recognized had I not
got involved with volunteering. The people I've met have been the
most genuine and kind-hearted people. The volunteers probably get the
most joy out of the experience than anyone else. These are people
that see more of it than just volunteering. There is something about
giving, whether they come in the form of time and effort or
donations, that gives you a warm feeling. The feeling is
indescribable.
I
share this story constantly with others because I want to get
everyone involved with selfless acts. "Forward looking" to me is
a question of the long-term impact of my volunteering. I'd like to
think that my efforts I make to this day have made a lasting impact
for someone in need. If I manage to put a smile on any person's face,
I think I could call it a successful day.