Name: Nestor Lopez
From: Coconut Creek, Florida
Grade: College Freshman
School: Broward College
Votes: 0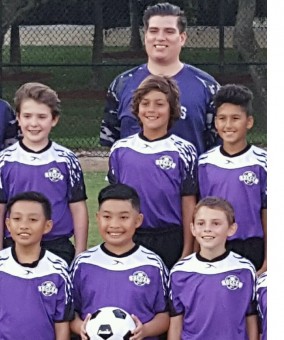 Life Lessons One Kick At A Time
I have been volunteering as a youth soccer coach for the last couple of
years and will be participating again during the start of the season
this year. I have a passion for soccer and I wanted to share that
same passion for my nephews who otherwise would not have played if I
was not their coach. My nephews are very shy, like many kids their
age (8-10 years old), and I believe sports is a great way to break a
kid out of his shell. When I was younger I played soccer throughout
those years up until my high school days. It provided me with
confidence that I would not have had otherwise and also allowed me to
make friends with kids from different areas. My nephews as well as
other children on my team benefitted from playing outside and meeting
new friends which is something this generation of children seem to
only do online while playing video games.
My time as a soccer coach goes beyond the hour practice on Tuesday and
Thursday. I put a lot of time into my practices both before in
developing a lesson plan for the night, as well as during to make
sure I can encourage the children to have fun while learning a new
skill, and after by playing a parent v. kids game that has grown to
be the most popular part of practice. In a typical soccer season I
spend approximately 10 hours a week for 3-4 months volunteering my
time while working a full time job and attending school.
My biggest challenges as a coach are dealing with the parents. Many
parents believe their children to be the next Lionel Messi or
Cristiano Ronaldo. While winning is fun, our league is a rec. league
where fun, learning, and participation are the most important aspects
of practices and games. I try to encourage parents in understanding
the core principles of the league. Children are mirrors of their
parents and especially at the 8-10 years of age.
My biggest satisfaction as a coach is leaving a lasting impression on
the children. Having the kids and parents come back to me before the
start of each season asking to be on my team is very awarding. The
first year I coached we lost every single game with one exception.
You would have thought we won the World Cup that game the way we all
reacted. Despite losing all the games the kids had a lot of fun and
all asked to be on the team the following year. Last year's team
was very successful and fun as well. The memories we were able to
create not only for the kids but for the parents and coaching team
was amazing. We had a fantastic 'rain' game were we beat the
best team in the league and is something the kids and parents still
talk about when we bump into each other around town.
What I learned the most during my time as a volunteer coach is that it is
the simple things that make impressions on children and their
families. What seems as a simple task of volunteering to essentially
play a sport I love has made a difference in the lives of so many
people. As I look forward to the future I believe the kids on my
team will learn to value the opinion of others and understand that
although someone might be shy their ideas and thoughts are valuable
tools for the team's success. The lessons of community, respect,
and team work, and perseverance through challenges is what I try to
engrain to my teams. Many of the children are growing up without a
positive role model in their life and I'd like to be that for them.
I sincerely believe that if I were to come back and visit with these
children years from now that the lessons learned through our soccer
team will still be engrained in them today. I haven't played
organized soccer in over 20 years yet the lessons I learned as a 10
year old boy are the same lessons I'm teaching my 10 year old
nephew and his teammates. Sports bring communities together, but it
is the lessons learned in the sports that keep them bonded so close.