Name: Christopher Ramirez
From: Rancho Cucamonga, CA
Grade: 11th
School: Rancho Cucamonga High School
Votes: 0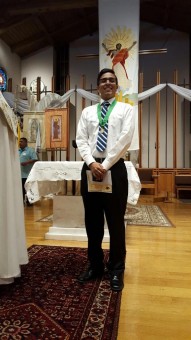 In
my journey I've encountered so much love, so many amazing people,
and an endless amount of support and a feeling of comfort around
everyone. I took home lessons to share, and lessons to preach. A new
me showed, one that demonstrated an attitude of selflessness and love
towards everyone. In my first ministry Edge is every Wednesday from
4-9pm and we go yearlong. I help set up, plan nights, and give talks
at least twice every season and offer a sense of fellowship to all
middle schoolers who attend. The biggest challenge here is definitely
delivering the right message to the kids at an age where they are
beginning to not only see physical shifts but mental shifts as well.
We have to be able to balance their own personal problems with their
school ones and give them equal attention, be able to help them
understand how each situation affects us and them differently and
most importantly offer them solutions that will help them deal with
and problems in the future. In my second Ministry of being a
Confirmation Catechist, which is every Monday since I teach two
sessions from 7 to 8:30pm, we help our students prepare for the
sacrament of Confirmation which within our church is important
because it completes our initiation and reception of gifts and fruits
of the Holy Spirit. This offers its own challenges especially with
people who don't want to be there necessarily. Issues are often
more opinionated and we have to teach what is right from wrong but at
the same time teach it in the way that's actually right and not how
people tend to incorrectly interpret what we believe. What gives me
the most satisfaction is knowing I was able to get reach at least one
person to take away one thing and apply it to their own life. To be
able to make an impact in anyone's life is a huge honor and to know
it can play a domino effect is what I hope for one day. I've
learned overall that we can't get through a problem alone and that
we need companionship and to be able to show love to everyone no
matter what to make the world a better place.

I
see these programs as forward looking because they help not only
myself but others grow as well and help me be who I want to be. What
changes that I would like to see from this is a world that can accept
each other and not use hate as a way to get a point across. Whether
it be in a neighborhood, whether it be in a city, school, country,
cross religions we shouldn't live life creating problems. If I were
to come back later in life, I think my activities could make a
difference to inspire others to be about a problem rather than to sit
back and see it.