Name: Hannah Keidan
From: River Forest, Illinois
Grade: 10
School: Oak Park and River Forest High School
Votes: 0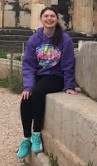 For two years now, I have volunteered an hour after school twice a week
as a tutor at an elementary school near my high school. I chose this
program because it was just getting started, and I wanted to support
its success. Furthermore, I have always enjoyed working with
children, and hoped that this would allow me to continue to do so.
Although she was sometimes absent, I was regularly paired with a second grade
student named Lizzie this school year. When I first began working
with her, we did not get along. I found myself extremely annoyed and
frustrated as she would refuse to listen to me, purposely leave her
homework in other parts of the school so as to waste time going and
getting it, talk over me, and pay more attention to her snack than to
her work. Yet as I got to know her better, I saw she is a sweet and
intelligent girl who gives up on her homework because she feels
insecure when she has a hard time with it.
Learning to work with Lizzie (and coming to care for her in the process) was
both my greatest challenge, and the most rewarding aspect of my
volunteer work as a tutor. Getting Lizzie to open up to and feel
comfortable with me yielded extraordinary results: she began showing
up at tutoring on Tuesdays and Thursdays with a smile on her face,
her homework out, and an admirable work ethic. We would complete
entire assignments with time to spare (rather than getting next to
nothing done), and Lizzie enjoyed herself in the process.
My experience tutoring Lizzie is a part of why I am now seriously
considering education as a career path in my future. An education is
indispensable; although Lizzie is only one student, changing her
attitude about learning can and will profoundly affect her life.
This, to me, is "forward looking:" fostering development and
progress. Through my volunteering, I hope to continue to teach
children the value and joys of education.