Name: Michaela Von Schenk
From: Fargo, North Dakota
Grade: Freshman in College
School: North Dakota State University
Votes: 1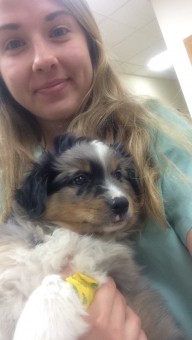 Michaela
Von Schenk
July
25, 2017

Looking
Forward Into Our Future
            Volunteering is something that I take immense pride in. I've volunteered in many
different areas, regarding either animals, homeless people, or youth
development. I feel as if these volunteering opportunities have
molded me as a person into somebody compassionate, dedicated, and
loving towards both people and animals. Volunteering is an invaluable
experience that I personally believe every individual should take
part in.
The region I've volunteered thousands of hours in pertains to animals.
I became involved in volunteering at animal shelters, hospitals, and
clinics because of my career goals. Ever since I was only three years
old, I have wanted to become a veterinarian. I am now in the rigorous
process of applying to veterinary school, and am beyond thankful for
the volunteering opportunities I've received. The volunteering
opportunities have not only helped to prepare me for veterinary
school, but have also given me immense pride in caring for the
four-legged creatures of this world. As a volunteer at any of the
clinics, shelters, and hospitals I've volunteered my time at, I
first began cleaning cages, giving food and water to animals, and
administering medications. After I gained more knowledge in the
field, I began working with clients, prepping animals for surgery,
observing and assisting during surgeries, and dealing with
post-operation recovery. This experience has not only greatly
heightened my love and compassion for animals, but has also convinced
me that I am going into the correct field. When I was only twelve
years old, my father used to bring me to clinics to volunteer after
school. This continued for years, until I could drive. Then, I drove
myself to these clinics. I have volunteered consistently at animal
shelters, clinics, and hospitals for over eight years, and have
dedicated over 1,500 hours volunteering.
I also have experience volunteering with food banks. My church's
youth group, at the time, only had seven members. The seven of us set
out to raise awareness and collect nonperishable food items for our
local food bank. At the conclusion of our three month food drive, we
collected three pantries worth of food for the local homeless shelter
by going door-to-door. This food drive took three months,
approximately three hours per week. This opportunity was my most
humbling experience. I gained worthwhile knowledge about how truly
blessed I have been, and have made the decision to dedicate my time
volunteering at other organizations that assist the less fortunate.
I have spent a myriad of time working with youth in regards to
academics, athletics, and development. One of my most treasured
volunteering opportunities has been as a young girls' self-defense
instructor. I am a black belt in Soo Bahk Do, a Korean martial art.
As a certified student instructor, I assisted my instructor in
teaching self-defense to girls ages 8-14. These classes consisted of
heightening awareness, how to handle an emergency situation, and
lastly, how to defend oneself if a dire situation ever presented
itself. This volunteer opportunity made me value working with younger
generations, and how imperative it is that they know how to handle
themselves. It makes me feel amazing that the lessons I've taught
these girls could be applied to help them save their lives. I taught
these classes for two hours per week, for about six months straight.
My greatest challenge as a volunteer was undoubtedly my age. Because I
first began volunteering when I was only twelve years old, the adults
present did not always view me as capable; they lacked confidence
that somebody so young could show any true breadth in the services
required. However, through perseverance, I surpassed their
expectations and maintained a capable and hard-working reputation. My
favorite part of being a volunteer, in any respect, has been having
the chance to improve peoples' lives. Whether it be in regards to
their pets, well-being, or children, I have taken great pride in
getting to "take care" of so many people. A myriad of people have
taken care of me through the years, by showing me compassion and
helping me where needed. I conclude that the only way to pay it
forward is to show compassion to somebody else.
Throughout my volunteering, I have learned that you can gain knowledge from
anybody. I learned a myriad about working with animals, the foodbank,
and children. Working with animals taught me to have compassion for a
creature who cannot speak up for themselves, working with the
foodbank taught me humility and to always be grateful for what I
have, while working with youth taught me patience and leadership.
Each experience taught me something different and something amazing.
All of these lessons are invaluable knowledge that I can carry with
me throughout the entirety of my life.
Looking forward into my future, I can attest that I have a myriad more of
volunteering to do. There is, and always will be, good to be done in
the world. If we all looked into our hearts and donated time
investing in our world's future, the world would be a much better
place. Our animals, fellow humans, and future generations would
healthy, happy, and taken care of. While looking into the future, we
must ask ourselves: What do we want our world to look like? Through
volunteering our time, we can ameliorate our world. I believe that
even as a young volunteer, my work will have a lasting impact on the
world. For example, I was the youngest volunteer at a particular
animal clinic. Because of my maturity and intellect, they accept
volunteers as young as twelve years old to get experience in helping
four-legged creatures. This amazes me that I was able to affect this
organization in the long run. The clinic is now able to have younger
volunteers, who will inevitably show a drive into making the world a
better place. Volunteering is the essence of who I am. I know
nothing, if not the pride I have because of my volunteer work. Nearly
every amazing opportunity I have received has been through dedicating
my time volunteering. Nothing is more valuable than time; giving your
time to somebody can truly change their world.