Name: Sameer Khawaja
From: Atlanta, Georgia
Grade: Junior High School (currently freshman in college)
School: Emory University
Votes: 0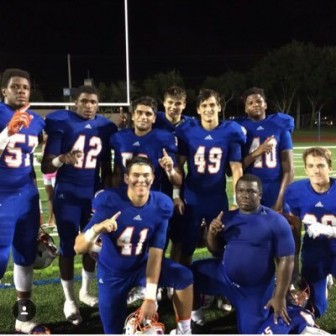 Sameer
Khawaja
Youth
Forward Scholarship
Although I was born in the United States and am a proud American, I keep close
ties to my family's home of Pakistan. In Jacksonville, not only the
Pakistani but the Muslim community as a whole is very close. Everyone
knows each other and we enjoy holding frequent gatherings. One of the
things I enjoy doing with the Muslim community is talking with
younger students about extracurricular activities and balancing
social life, school work, and religious values.
A lot of Muslim students face pressures from their parents who want
them to solely focus on their education. Because I am the only
Pakistani American football player, the head of the youth groups at
the mosque wanted me to talk to students and parents. A lot of the
parents were hesitant at first, but after they listened to how I
manage school and sports and the benefits of extracurricular
activities, many wanted their children to become more engaged in
school activities. As a four-year varsity member of the Bolles
football program, I understand how to balance elite athletic
expectations with elite academic expectations. Football has taught me
the determination and hard work needed to succeed, not only on the
field but in the classroom. I have less time to study for my classes
than other students so I know I must use my time wisely.
Another topic I discuss with others is how to handle uncomfortable situations
regarding your faith. In the world today, there is a growing
animosity towards Muslims, and almost all Muslim Americans have faced
some sort of hostility because of their faith. For many kids,
discussions like these are difficult to have with their parents, so I
talk about it as a fellow teenager living in the same situation. Many
people make their judgments about Muslims based on what they learn
through the media, because those are the only Muslims they see. I
never explained my faith to others until my sophomore year when I
realized if I discuss my values with others, people will realize who
Muslims really are. Now I gladly answer questions about my faith,
rules, and beliefs. 
I try to serve as a middle ground for younger people who want to
discuss their faith and issues. Talking with a fellow teenager is
easier for some, rather than talking with their parents because we
experience the same situations at home, school, and out in public.
The Muslim community in Jacksonville is very young so many of the
teenagers, like myself, are living in an environment totally
different than the one our parents lived in. I want to be an example
that people can look at and say, "He is how Muslims really are."
My eventual goal is to become a Congressman or even the President, so
I can present a positive example in a more public way.